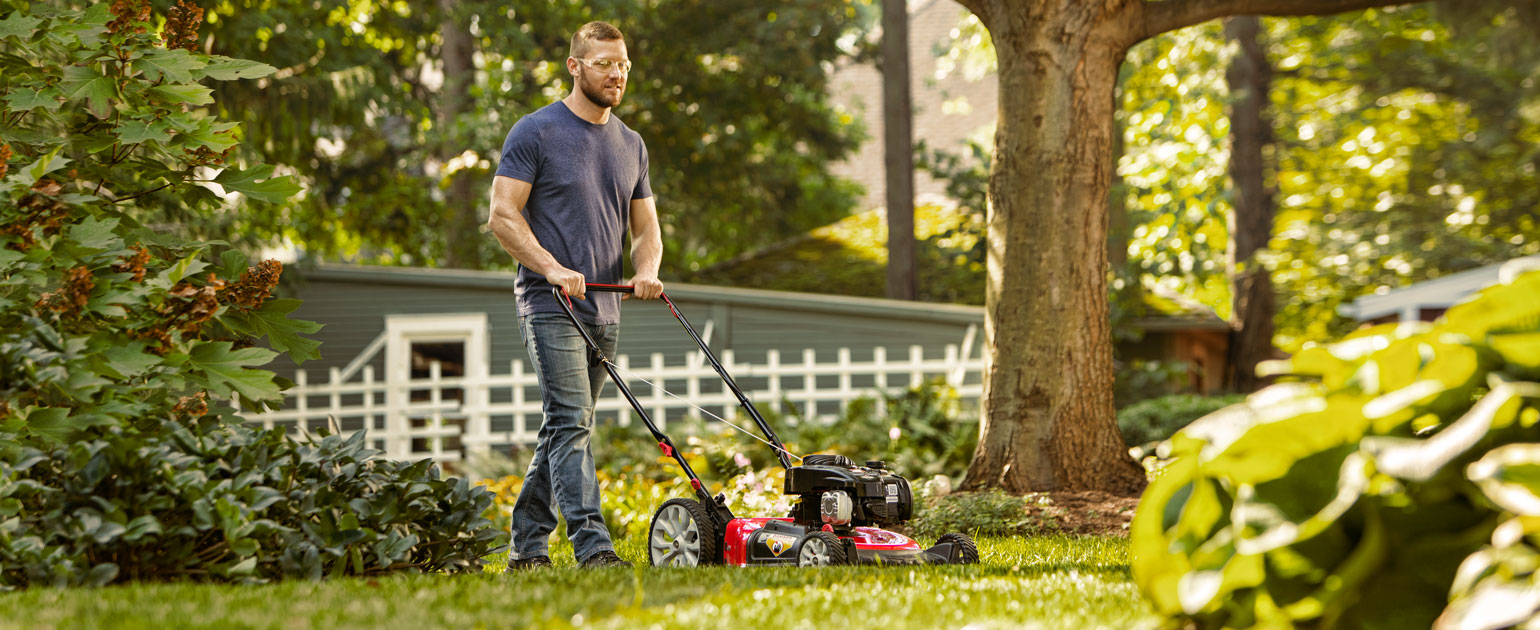 Leave No Blade of Grass Uncut
The TriAction® cutting system is standard on all of our walk-behind mowers and is engineered to give your yard a clean, even cut every time.
Have a question? Just Ask Troy. Simple answers to your questions in the yard.
How to choose a walk-behind mower
There are several factors that can narrow your search for a new walk-behind lawn mower. Those include whether or not you want to push the mower, your yard size and the type of terrain.
Push or self-propelled?
Walk-behind push mowers are best for smaller yards, usually half an acre or less in size. They are also better for flat lawns, because they do not offer help mowing uphill. Self-propelled walk-behind mowers are best for yards larger than half an acre in size. They have built-in drive systems, which make it easier to mow up hills and for longer periods of time.
Think about your terrain
If you have an unbalanced or slightly inclined landscape with a lot of bumps and hills, look for a walk-behind mower with high rear wheels. They make it easier to roll over uneven and rough yards, and are more maneuverable.
Front wheel drive vs. rear wheel drive
There are three types of drive systems on self-propelled mowers: front wheel drive, rear wheel drive and all wheel drive.
Front wheel drive pulls the walk-behind mower along and allows you to keep the drive engaged while making turns. They are best for larger, flat lawns.
Rear wheel drive gives you better traction, especially when mowing on hills, uneven terrain or when bagging.
All wheel drive gives you the best traction on any wet or dry terrain.
Speed controls: single vs. variable speed
There are several types of speed systems on self-propelled, walk-behind mowers. Single-speed systems have one set speed that can be engaged or disengaged. Variable-speed systems allow you to choose your pace.
Normal variable-speed control lets you adjust your speed by squeezing a lever on the handles.
InStep speed control reacts to the how much you push the mower and adjusts the pace to speed up or slow down. This makes it easier to mow at the perfect speed.
Starting options
You have several options available for starting your walk-behind lawn mower.
Recoil start requires you to pull the recoil cord to start the mower.
Electric start lets you skip the recoil method and start with the push of a button.
Mowers with Briggs & Stratton® engines also have the Starting Promise, which means if the walk-behind mower doesn't start in two pulls, it will be fixed for free.