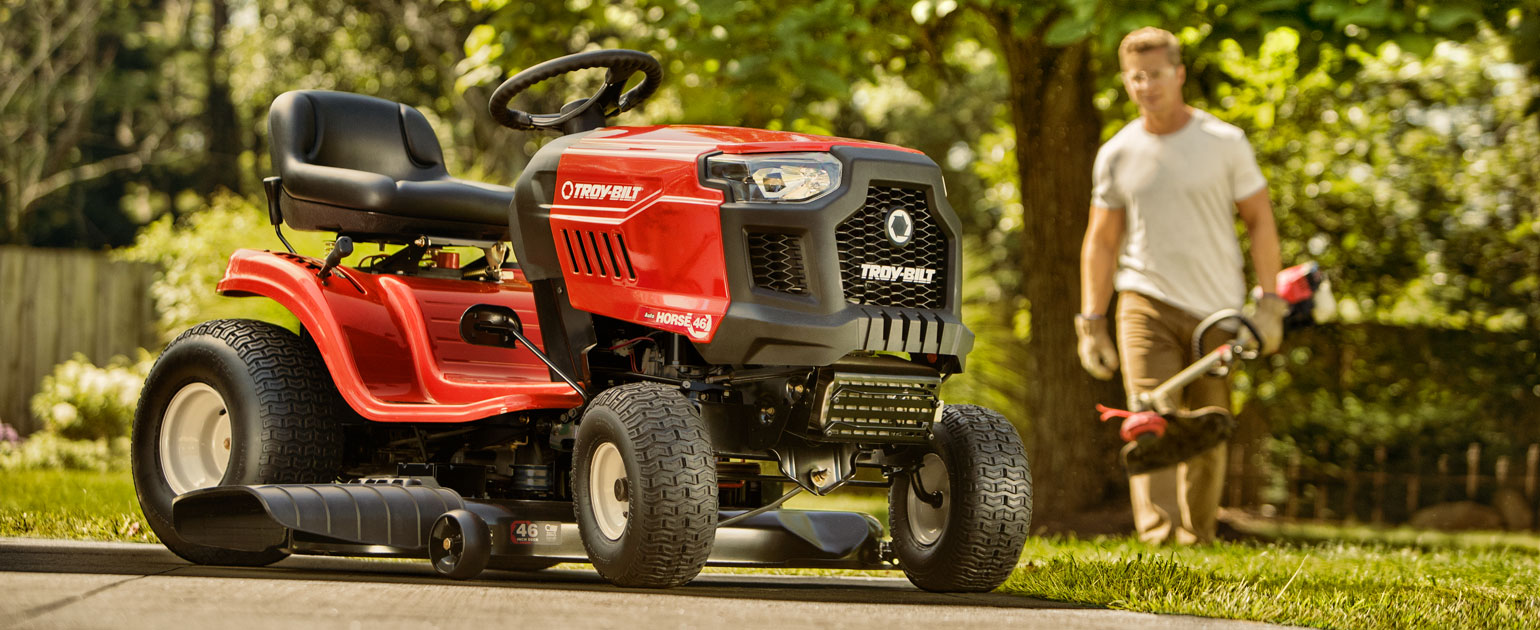 Built for Your Needs
Troy-Bilt® riding mowers offer a variety of features, including hydrostatic transmissions, systems monitors and much more.
Have a question? Just Ask Troy. Simple answers to your questions in the yard.
How to choose a riding lawn mower
There are several factors that can narrow your search for a riding mower. Those factors include yard size, type of terrain and what chores you want to tackle with your mower.
Riding Lawn Mower or Zero-Turn Mower?
Riding lawn mowers, traditionally known as lawn tractors or garden tractors, are designed to mow flat areas of grass or on land with hills, and also accept a variety of attachments. They are operated by a steering wheel and either a gas pedal or foot-controlled brake/clutch system. Their steerable front wheels provide added stability while mowing on hills and slight inclines.
Zero-turn mowers are ideal for larger, flat to slightly hilly yards and are designed to reduce mowing time. They are usually controlled by two lap bars that independently control the speed and direction of the rear wheels. This type of drive system, combined with front caster wheels, allows zero-turn mowers the ability to execute fast turns and makes them optimal for yards with obstacles to mow around.
Lawn Tractors vs. Garden Tractors
While they look very similar, lawn tractors and garden tractors are different machines.
Lawn tractors are also designed to accept lightweight attachments such as grass baggers and snow plows, as well as pull dump carts and spreaders.
Garden tractors typically have larger cutting decks and wheels than lawn tractors and are designed to accept heavier attachments, including garden tillers, as well as lighter attachments for a lawn tractor.
Drive Systems
Troy-Bilt riding lawn mowers come with several types of transmissions.
A Shift-on-the-Go transmission allows you to change speeds without clutching or stopping.
A hand-controlled hydrostatic transmission provides smooth drive control without stepping on a pedal.
An automatic or hydrostatic foot-controlled transmission drives just like a car. The further you push the pedal down, the faster you go.
Think about Your Terrain
Lawn and garden tractors are suited to mow grass on a variety of terrains. They work well on flat, open areas of land with few obstacles, and also on slight inclines. For yards ranging from flat, open areas to slight inclines with many obstacles, a zero-turn mower would better suit your needs.
How Large is Your Yard?
Lawn and garden tractors are designed to handle large yards from less than one acre up to two acres. The rule of thumb when choosing a mower is that the bigger your yard is, the bigger the deck size you'll want. If you have less than one acre, a 34 or 42-inch deck will do the job. If you have a yard more than several acres in size, look for a 50-inch or 54-inch deck to cut more grass with each pass.