Storm Tracker 2890 Snow Blower
Two-Stage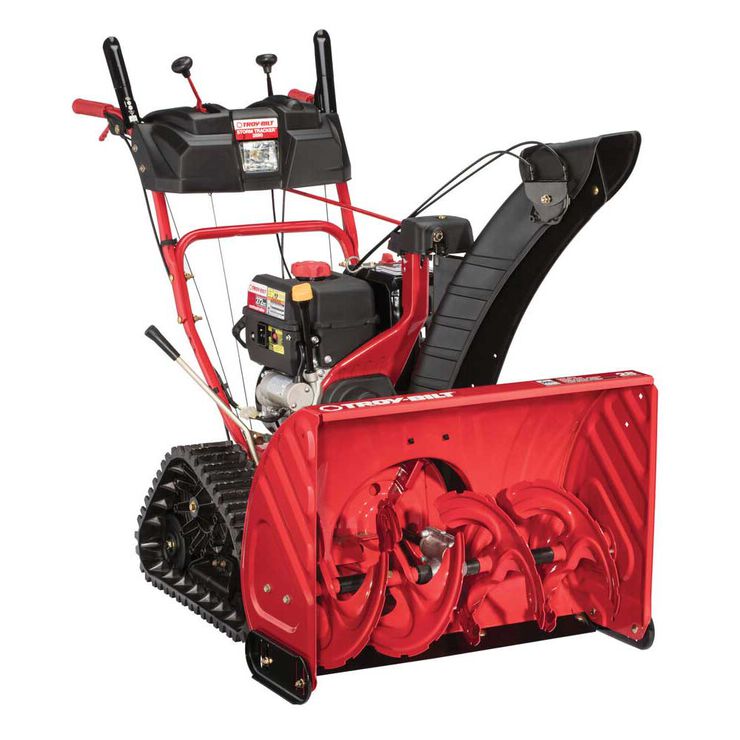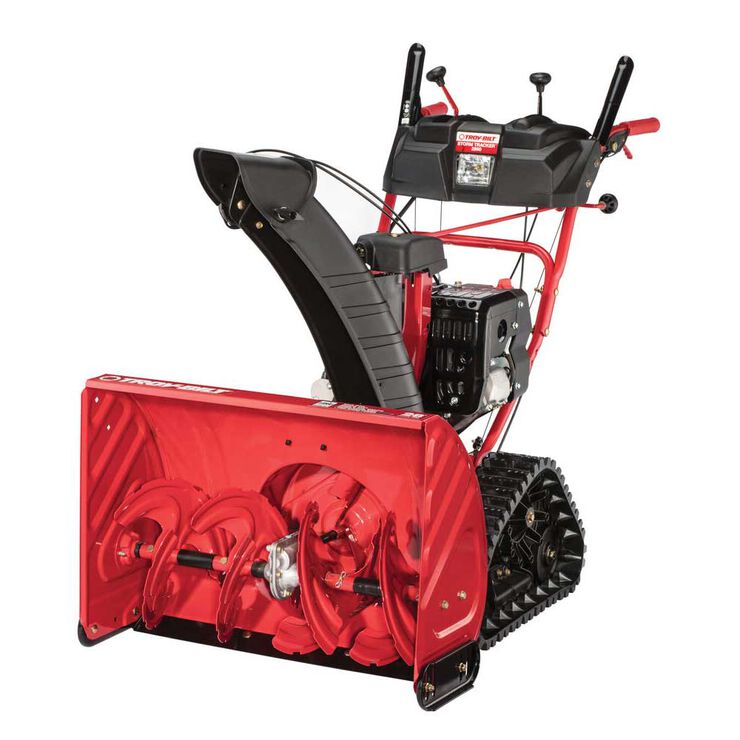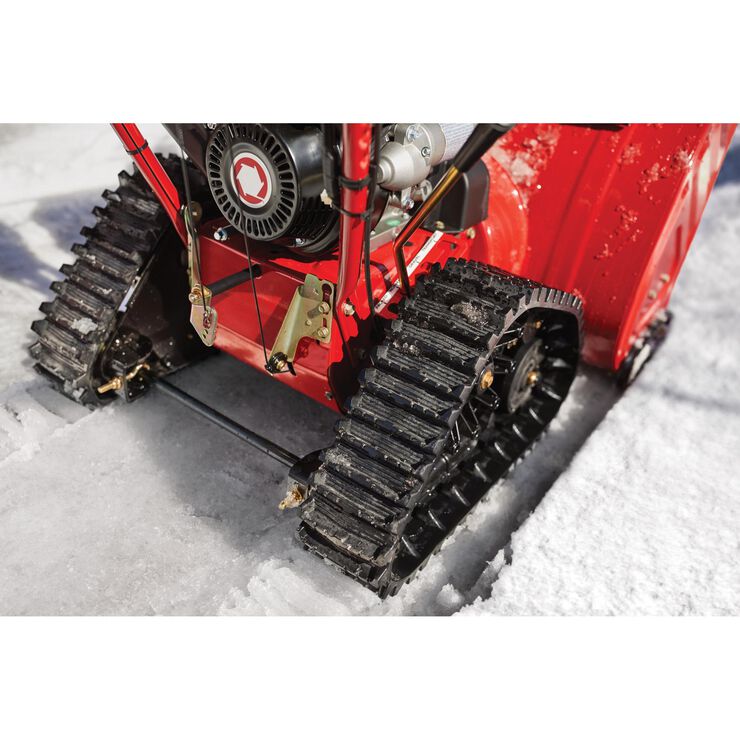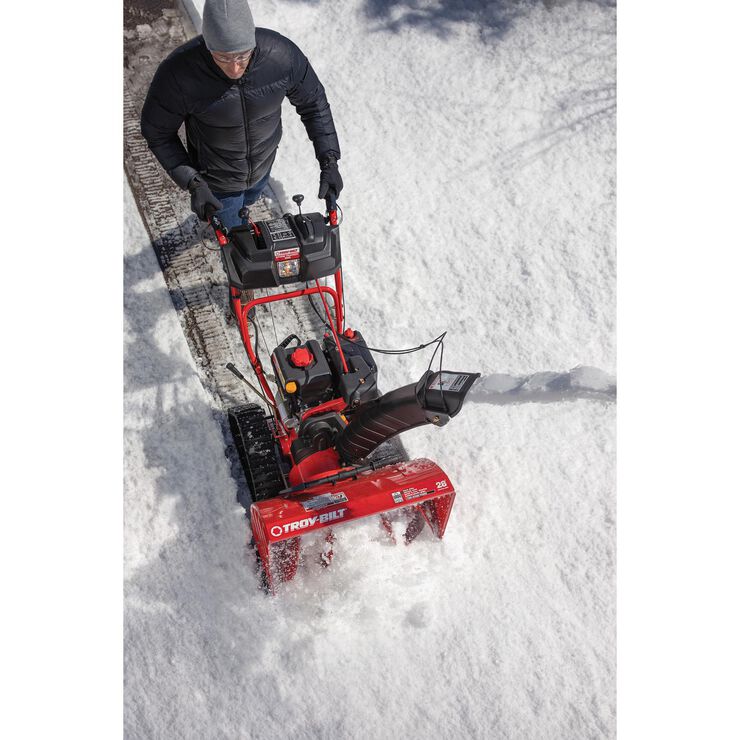 Storm Tracker 2890 Snow Blower
Two-Stage
---
To handle winter, you need power and convenience. The Troy-Bilt Storm Tracker 2890 brings the best of both worlds, starting with a larger, 28-inch, clearing width powered by a reliable Troy-Bilt 272cc engine capable of handling up to 12-inches of snowfall and starts at the push of the button even in the coldest temperatures. You'll be able to adjust other controls without stopping thanks to Just One Hand™ operation, locking in your speed so you can use your hand for other things, like power steering that allows you to quickly adjust your direction with the touch of a finger. A track foot print creates more ground contact to provide added stability and traction in heavy snow and ice, and heated grips provide extra comfort. Conquer winter and get back to doing what you love most with the Troy-Bilt Storm Tracker 2890.
Documents and Guides
D-Track drive system creates 50 percent more ground contact along with 15-inch x 4.5-inch track foot print provide added stability and traction in heavy snow and ice.
Three different SelecTrac™ drive modes shift the unit's weight for optimum performance on hard-packed or icy snow or on gravel driveways.
Two-stage technology with 12-inch serrated steel augers and a 12-inch impeller plows through deeper, heavier snow faster than a single-stage snow blower.
Delivers reliable power through a Troy-Bilt 272cc OHV engine tested to ensure dependable starting in all weather conditions.
Deluxe, high impact, adjustable polymer skid shoes help protect surfaces from scuffing.
Storm Tracker 2890 Snow Blower Features
D-Track Drive System
D-Track drive system creates 50 percent more ground contact along with 15-inch x 4.5-inch track foot print provide added stability and traction in heavy snow and ice.
Just One Hand™ Operation
Just One Hand™ operation allows you to lock in your speed and adjust chute controls without disengaging the drive.
Overhead Crank Chute Control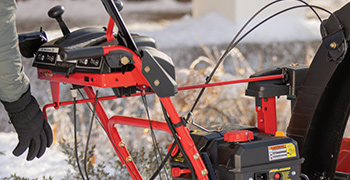 Overhead crank chute control allows you to easily adjust the direction of snow discharge from the operator area so it's thrown where you want it.
Touch N' Turn™ Power Steering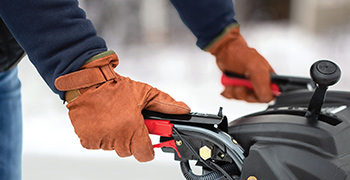 Touch N' Turn™ trigger-controlled power steering allows you to quickly adjust your direction with one finger.
Remote Pitch Control Lever
Remote pitch control lever allows the operator to change the height of snow discharge from the dashboard.
Self-Propelled Drive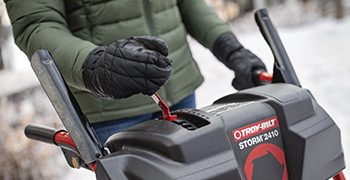 Self-propelled drive with choice of six forward and two reverse speeds.
Minimal Snow Blowback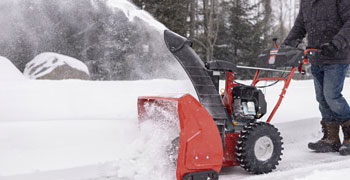 Extended chute design minimizes blowback of snow discharge on the operator.
Heated Hand Grips
Heated grips provide extra comfort in cold weather.
In-Dash Headlight
In-dash headlight provides improved visibility in low-light conditions.
Engine
Engine Brand

Troy-Bilt®

Engine Model

675-SU OHV

Engine Displacement

272cc

Starter Type

Push Button Electric Start / Pull Start

Fuel Tank Capacity

5 quarts US / 4.7 L

Engine Oil Capacity

20 oz
Drive System
Speed

6 Forward / 2 Reverse

Drive System

Track drive
Controls
Handle Grip(s)

Heated grips

Pitch Control

Remote

Chute Rotation

200 degrees

Chute Control

Remote crank / Remote pitch

Single-Hand Operation

Standard / clutch lock

Steering Control

Power Steering

Tire Size

4.7" x 15.8"

Drive Type

Self-Propelled

Operator Control

Just One Hand®
Power and Performance
Clearing Width

28"

Intake Height

21"

Number of Stages

2
Dimensions
Dimensions L/W/H

48.25"(L) x 30.75"(W) x 34"(H)

Weight (approx.)

250lbs

Auger Diameter

12"

Impeller Diameter

12"
Additional Specifications
Headlight(s)

In-dash headlight

Shave Plate

Steel

Skid Shoes

Deluxe polymer

Drift Cutters

None

Chute Material

Polymer

Recommended Oil Type

5W-30 (Included)

Model Number

31AH7FP4563
Specifications
Forward/Reverse Speeds

6 Forward / 2 Reverse
Warranty
Warranty

4-Year limited warranty/ lifetime warranty on chute
Product Reviews
Rated

5

out of

5
by
ColdNJ
from
Lifesaver
"I'd hate to live here in the winter" is the general response I get from people visiting my house and looking at my long, steep driveway. I searched for a long time to get a snowblower that could handle the often slushy and deep NJ snow. This is the snowblower of my dreams. It goes up (and down) the driveway easily but never out of control. In fact, if I stop it midway down it won't even roll on it's own. That proves to be annoying when I want to move it without starting it, but otherwise it's a necessity. You won't be disappointed with this. The headlight is great, it never clogs, and starts on the first pull every time (it has electric start that I've never used).
Date published: 2015-02-10
Rated

4

out of

5
by
lastwhofan
from
Happy with selection
Setup was easy, but the cable adjustment for the auger and drive was a bit confusing because only one of the two identical bolts is used to tighten, the other is just a guide for the bracket. Also there is typo on the drive adjustment instruction. This engine Is so easy to pull start, I haven't had to use electric starter! The steering triggers are wonderful, as is the one hand control (track lock), fast chute direction change, and heated grips. My 4 star rating on durability is based on the rather flimsy feel of the handle when you go to move or turn the machine. Seems like they should be more rigid to match the weight of the machine.
Date published: 2016-01-17
Rated

5

out of

5
by
mr stiver
from
What a Beast!
I bought this snowblower to replace my old one that finally cost more to repair than it was worth. I did my research and this brand is highly rated and this model gets high marks too. My driveway is on an incline and is 3 cars wide at the top and narrows to 2 car width at the street, about 50 feet long. This wide 28 inch unit makes quick work of the drive. The track drive is great on the incline and the power steering makes turning around a breeze. This unit is heavy and seems well constructed but easy to maneuver. Easy to pull start. Engine seems powerful. Bought from my local dealer which definitely increased my confidence to buy it and so glad that I did!
Date published: 2019-01-15
Rated

5

out of

5
by
Robbie1968
from
Tracks are the way to go
Bought this unit to replace a 15 year old Yard King 10/29. I have used it through 5 storms so far and it has exceeded my expectations in every way. The tracks allow variable down force so I can set it to skim over the top of my gravel driveway leaving stones undisturbed, or move a lever to apply down force and scrape it down to bare pavement. Heated hand grips are great and the power steering means just about anyone can use this machine with ease. Having had several wheeled snow blowers, I can honestly say that I will never buy one of those again! The tracks are awesome.
Date published: 2017-12-25
Rated

3

out of

5
by
SierraSnow
from
2890 Review
I purchased the blower in November and used it in 2 storms. The first storm dropped ~8" and the blower did a great job. The tracks allowed me to walk up a fairly steep driveway without issue and the blower cleared a path with ease. The second storm dropped ~12" and in the process of clearing a driveway, the main gearbox (for the stage 1 auger) failed. Shear pins did not break nor did I hit anything but snow. The unit was repaired under warranty. The repair shop had to negotiate on my behalf to get a new gearbox...as the unit was brand new and not even scratched yet. The apparent cause of the failure was a lack of (factory) lubricant within the sealed gearbox. The factory finally agreed and replaced the gearbox with a new one. My issue is it took 4 weeks to get the part to the repair house. I've since used the repaired snow thrower and it works as expected. This failure happened in the dead of winter. I was lucky that we did not have any significant snows while my unit was in for repair.
Date published: 2017-03-09
Rated

5

out of

5
by
Mountainhome
from
Exactly what I needed
I needed a machine that could handle my extremely steep and uneven driveway. It is basically a mountain trail with side slants and some 23% grade inclines, which is really too steep for a driveway but if you want to live on the side of a mountain that's part of the price. Winter is always an adventure at our house It's so steep that a previous large wheeled thrower couldn't climb it due to lack of traction and I couldn't keep it in a straight line to save my life due to all the bucking and side jumping in the rough uneven spots. I needed something that could not only climb back up the hill but throw snow at the same time. My 2890 arrived today. Only took a few minutes to set up and get it started. A few minutes on level ground getting used to the controls then down the hill I went, praying this monster could get itself back up the hill because there was no way I would be dragging it back up. It not only climbed back up, easily throwing snow the whole way, but it was extremely icy underneath the snow in some spots and almost impossible for me to walk on and this machine basically drug me up the hill with it. It saved me from landing on my face and kept me moving uphill in a smooth, non stop fashion. It has such great traction and lots of power. I found it easy to steer and keep in control and oh boy can it toss snow. I drove it out into an open area with month old, dense, wet snow settled to about 8"-10" deep now. Cut right through it down to the grass and tossed it plenty far enough away. I'd read where some people complain about how tracked throwers turn, but I find this one turns on a dime quickly and easily. As big as it is I was a bit concerned about controlling it but that concern quickly disappeared as I maneuvered it into some tough angles and weird spots. Some reviews expressed concern that reverse speed is too slow in this series of throwers. To me reverse is just to reposition. The thing basically does a zero turn so I just spin it around to go back rather than backing up in reverse for any distance. Don't muscle it, let it do the work with maybe just a little pressure from you now and then and it does great. Its got 6 forward speeds and I doubt I'll ever use them all. I went the 300' down one lane and back up the other lane in 4 mins and 20 seconds in 2nd speed and I felt like I was traveling plenty fast enough. I am extremely happy with this purchase. I know I wished others would have provided more detail so I hope this review is helpful Actually looking forward to the next big storm now.
Date published: 2015-01-22
Rated

4

out of

5
by
Kidder
from
Great Machine
Works great. The only thing keeping me from giving it four stars is the fact that the power steering doesn't work very well. Seems to work okay only occasionally. This is the second one they sent me and I am still disappointed with the steering performance. I still have to wrestle it to turn.
Date published: 2017-01-12
Rated

5

out of

5
by
Sunsetvette
from
One season too late
Last year winter 2016-17 we were hammered with snow here in Oregon, they shut down the gorge for a couple of weeks. I was using a single stage 2-stroke pusher, I worked the heck out of it in 18-20 inches of snow, I clear for 12 houses. This year I wanted to be better prepared. I read reviews both good and bad about this blower for 2 months, pulled the trigger and bought it before the snow came. It arrived well crated and in excellent condition. I followed the directions and had it ready for the snow in about an hour. This snow blower didn't disappoint. I plugged it in for the first start and it was running as soon as my thumb hit the button, very impressed. My driveway is 17 degrees which is why I ordered the tracked version. It was pulling me up the driveway, I set it up a notch and cleared a path around my house again going up 17+ degrees of lawn throwing the snow and not the grass... very pleased. The only complaint I have if you can call it that is on dry concrete it doesn't turn well due to so much traction. But I've found if you tilt it back on the tracks it turns just fine. If you're on snow it turns just fine. This year we only had 8 to 10 inches at a time and it cleared as though there was no snow at all. I think I'm the only one on the street hoping for more snow this year. I would recommend this product to any homeowner.
Date published: 2018-06-08
bvseo_sdk, dw_cartridge, 18.2.0, p_sdk_3.2.0
CLOUD, getReviews, 11ms
reviews, product