28-in. 272cc 2-Stage Gas Snow Blower with D-Track Drive
Two-Stage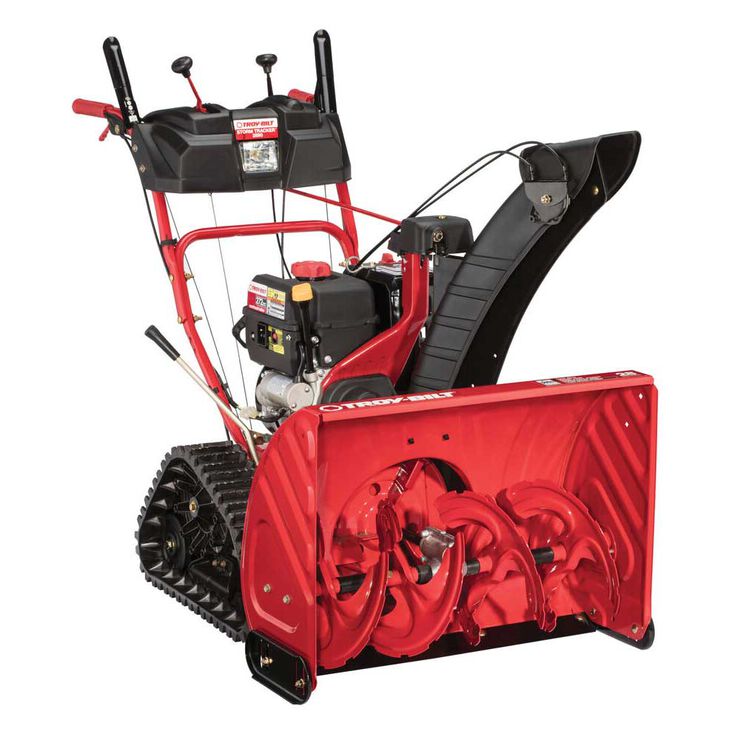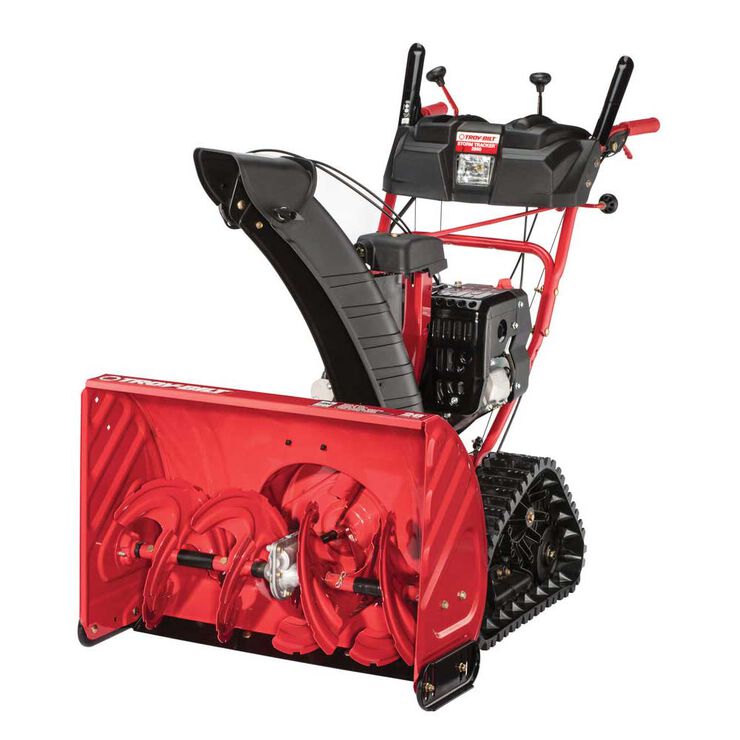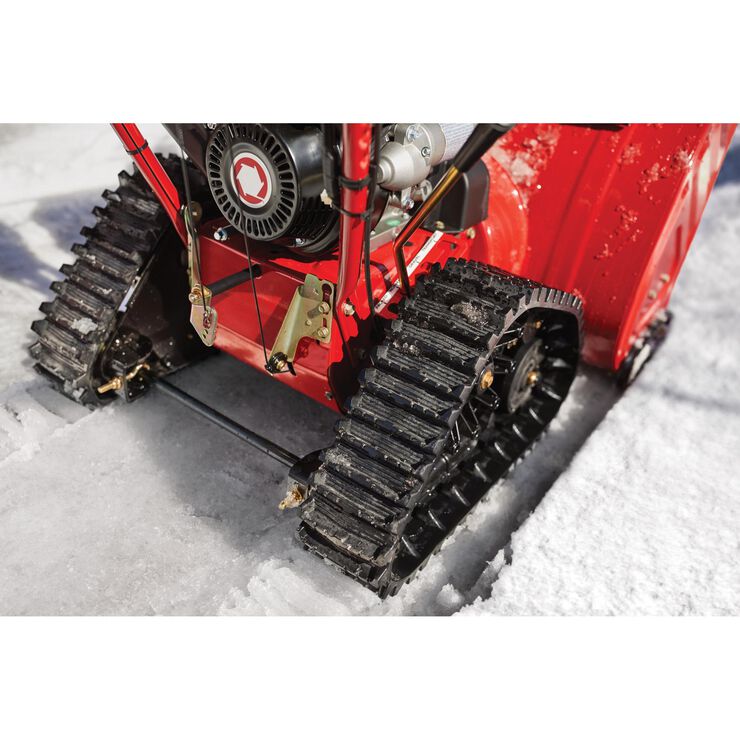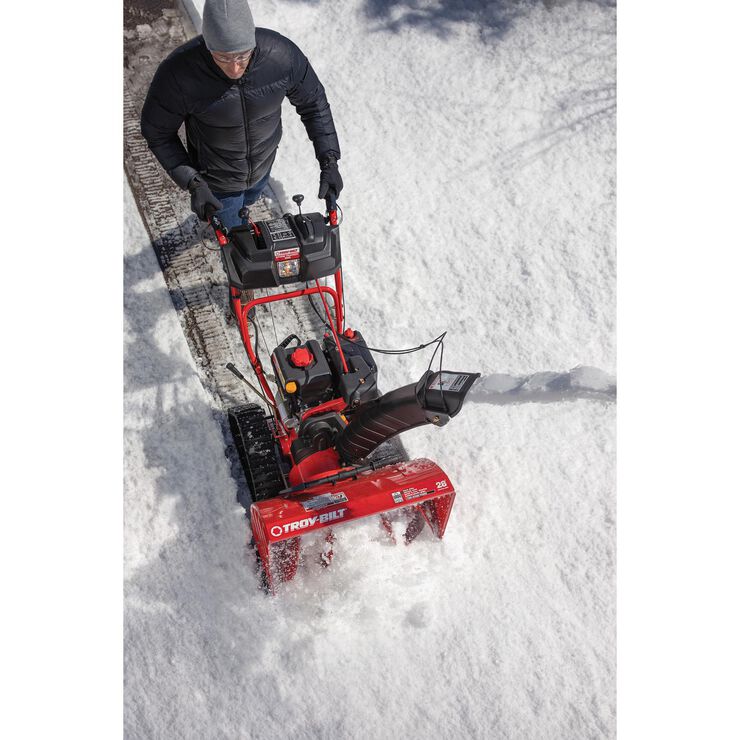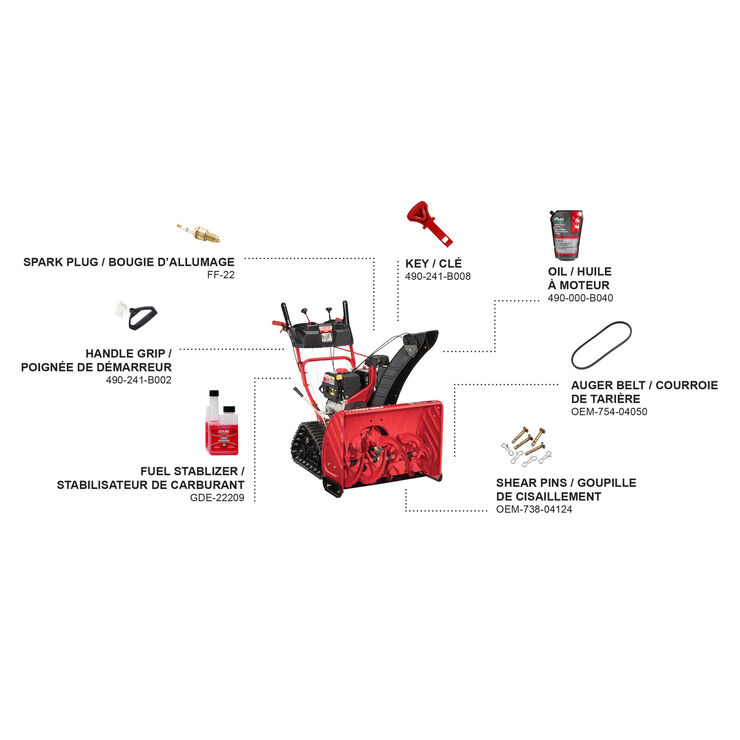 28-in. 272cc 2-Stage Gas Snow Blower with D-Track Drive
Two-Stage
---
To handle winter, you need power and convenience. The 2-stage snow blower with D-Track drive system creates 50% more ground contact for superior control, traction and durability in all winter conditions. The Touch N' Turn™ trigger-controlled power steering and heated grips allow you to quickly adjust your direction with one finger while keeping your hands warm. The in-dash headlight will help you to clear snow in low-visibility conditions.
Documents and Guides
272cc Troy-Bilt OHV electric-start engine delivers reliable power in all weather conditions
28 in. clearing width with 12 in. serrated steel augers helps break up ice and snow for easier removal
D-Track drive system creates 50 percent more ground contact along with 15-inch x 4.5-inch track foot print provide added stability and traction in heavy snow and ice
Three different SelecTrac™ drive modes shift the unit's weight for optimum performance on hard-packed or icy snow or on gravel driveways
4-Year Limited Warranty/Life on Chute
Touch N' Turn™ trigger-controlled power steering allows you to quickly adjust your direction with one finger
Adjust the snow flow with 200° chute rotation
Attachments & Accessories
28-in. 272cc 2-Stage Gas Snow Blower with D-Track Drive Features
Strong Warranty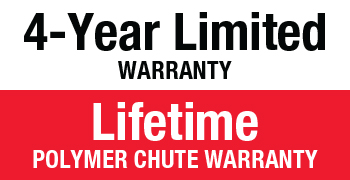 Backed by a strong 4-year limited warranty and lifetime polymer chute warranty for peace of mind.
D-Track Drive System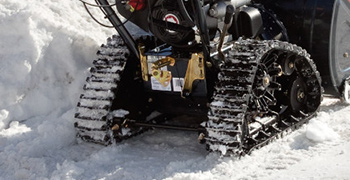 D-Track drive system creates 50 percent more ground contact along with 15-inch x 4.5-inch track foot print provide added stability and traction in heavy snow and ice.
Just One Hand™ Operation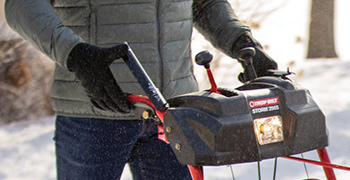 Just One Hand™ operation allows you to lock in your speed and adjust chute controls without disengaging the drive.
Overhead Crank Chute Control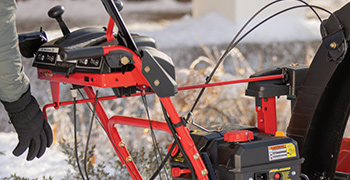 Overhead crank chute control allows you to easily adjust the direction of snow discharge from the operator area so it's thrown where you want it.
Touch N' Turn™ Power Steering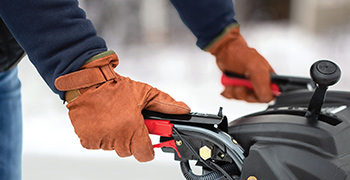 Touch N' Turn™ trigger-controlled power steering allows you to quickly adjust your direction with one finger.
Remote Pitch Control Lever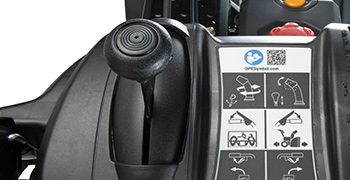 Remote pitch control lever allows the operator to change the height of snow discharge from the dashboard.
Self-Propelled Drive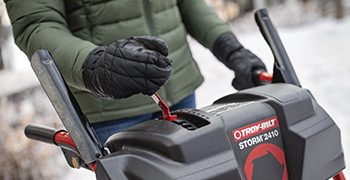 Self-propelled drive with choice of six forward and two reverse speeds.
Minimal Snow Blowback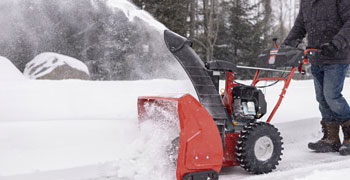 Extended chute design minimizes blowback of snow discharge on the operator.
Heated Hand Grips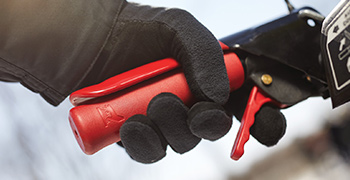 Heated grips provide extra comfort in cold weather.
In-Dash Headlight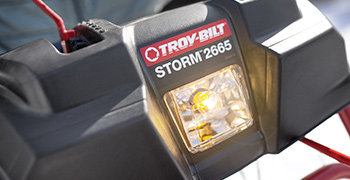 In-dash headlight provides improved visibility in low-light conditions.
Engine
Engine Brand

Troy-Bilt®

Engine Model

675-SU OHV

Engine Displacement

272cc

Starter Type

Push Button Electric Start / Pull Start

Fuel Tank Capacity

5 quarts US / 4.7 L

Engine Oil Capacity

20 oz
Drive System
Speed

6 Forward / 2 Reverse

Drive System

Track drive
Warranty
Warranty

4-Year limited warranty/ lifetime warranty on chute
Controls
Handle Grip(s)

Heated grips

Pitch Control

Remote

Chute Rotation

200 degrees

Chute Control

Remote crank / Remote pitch

Single-Hand Operation

Standard / clutch lock

Steering Control

Power Steering

Tire Size

4.7" x 15.8"

Drive Type

Self-Propelled

Operator Control

Just One Hand®
Power and Performance
Clearing Width

28"

Intake Height

21"

Number of Stages

2
Dimensions
Dimensions L/W/H

48.25"(L) x 30.75"(W) x 34"(H)

Weight (approx.)

250lbs

Auger Diameter

12"

Impeller Diameter

12"
Additional Specifications
Headlight(s)

In-dash headlight

Shave Plate

Steel

Skid Shoes

Deluxe polymer

Drift Cutters

None

Chute Material

Polymer

Recommended Oil Type

5W-30 (Included)

Model Number

31AH7FP4563
Specifications
Forward/Reverse Speeds

6 Forward / 2 Reverse
Product Reviews
Rated

5

out of

5
by
Sunsetvette
from
One season too late
Last year winter 2016-17 we were hammered with snow here in Oregon, they shut down the gorge for a couple of weeks. I was using a single stage 2-stroke pusher, I worked the heck out of it in 18-20 inches of snow, I clear for 12 houses. This year I wanted to be better prepared. I read reviews both good and bad about this blower for 2 months, pulled the trigger and bought it before the snow came. It arrived well crated and in excellent condition. I followed the directions and had it ready for the snow in about an hour. This snow blower didn't disappoint. I plugged it in for the first start and it was running as soon as my thumb hit the button, very impressed. My driveway is 17 degrees which is why I ordered the tracked version. It was pulling me up the driveway, I set it up a notch and cleared a path around my house again going up 17+ degrees of lawn throwing the snow and not the grass... very pleased. The only complaint I have if you can call it that is on dry concrete it doesn't turn well due to so much traction. But I've found if you tilt it back on the tracks it turns just fine. If you're on snow it turns just fine. This year we only had 8 to 10 inches at a time and it cleared as though there was no snow at all. I think I'm the only one on the street hoping for more snow this year. I would recommend this product to any homeowner.
Date published: 2018-06-08
Rated

4

out of

5
by
Busdoc
from
A Real Life Saver!
I own a cabin In the mountains at around 3800 foot elevation. Last winter, which was one of the heaviest snowfalls in the region in 50 years, I had to shovel snow by hand off of the cabin roof and driveway area. This took place before I took delivery of my Storm Tracker 2890 Snow Thrower, and ultimately landed me in the hospital with a diagnosis of cold weather fatigue/exhaustion. My 2890 literally was a life saver. Later that winter (2017), I blew through snow berms higher than the hood of the machine, as we had nearly 4 feet of accumulation. This winter, I have blown out the area twice with a snow depth of around 30 inches each time. I spent quite a few evenings researching many different brands and models, and I am convinced that I made the right choice. Because this machine is outfitted with tracks instead of wheels, it is way better suited for extreme snow removal tasks such as I have to deal with. I usually have to start it in sub freezing temperatures, so as long as the power is on, I just plug in the electric start. To those who have had operational issues or complaints, here are some tips from my own experiences: In deep snow (28"+), make a complete swath on the opposite side to which you are throwing the snow. Then, just take half width bites if necessary. Never try to turn the machine into the snow side, but away from it because the side hood will not push the wall of snow out of the way and your outside track will just spin. Same for backing up. You can't turn the hood into the snow, or the track will spin out. There is nothing wrong with the steering, one just has to learn how to properly operate the machine. Believe me, when working with deep snow, I have learned how to make the machine work for me, and not have to manhandle it around. This is one amazing piece of machinery. You will not be disappointed in purchasing one.
Date published: 2018-03-05
Rated

5

out of

5
by
PickySpender
from
Good investment
I purchased this specific model because of its good reviews. I have used it twice in the last week and so far it has lived up to the reviews. My driveway is gravel, 1,000 feet long, with a moderate incline (40 feet elevation change top to bottom). I also have a concrete pad at the top and a large gravel area in front of my barn. The first snow was only about 4 inches but I decided to see if it would clear the concrete pad. I had no issues and the blower did a decent job with the small amount of snow available. The second snow was heavier, but due to the high winds there was no consistent amount to measure. Some parts of my drive were bare and some drifted to 18 inches. I made four passes in the dark on the driveway, which cleared the entire width. I had it set on the gravel setting and had no issues with throwing gravel into the grass. One item to note - the light was insufficient - had it not been a full moon I would have had difficulty seeing. The following morning I did the concrete pad, the driveway again, the area around the barn, and a small portion of the grass (for the dogs). I had no issues with the performance of the blower on any of the surfaces or inclines. I marked durability as average because the machine is too new to decide. I marked down ease of use because it would take three hands to keep the machine blowing snow while changing directions and still throwing the snow where you want it (I have no recommendation on how to improve that - just offering my observation). I marked down ease of starting because after refueling it didn't start on the first pull like it did when it was cold (unheated storage location). To put this all in perspective, under identical conditions last year it took my son and I nine hours with shovels to do what I did in about two hours by myself with the blower. I spent a couple weeks reading reviews on all the different makes and styles of blowers before I purchased this specific blower and after the purchase I was still wondering if my money was well spent. Now that I have had reason to use it I'm confident my money was spent wisely.
Date published: 2016-01-23
Rated

5

out of

5
by
JohnCal
from
Works great
I bought this last November. Used it all winter. Always started on first try and made clearing my 300 yard driveway a breeze.
Date published: 2018-10-04
Rated

4

out of

5
by
gsmith
from
Great Snow Blower
I have now used this snow blower twice. Coming from wheeled versions, there's a little learning curve to operating a tracked version. But, I am enjoying the tracks - I no longer have to worry about wheel spin; it just goes. My biggest complaint is the handle controlling the discharge chute (up/down, not side to side) - it seems to always fall to the farthest back position from the machine's vibration no matter where else I try to position it. I'm quite disappointed with this feature, but overall, I'm very happy with the unit as a whole after my two uses. [This review was collected as part of a promotion.]
Date published: 2019-12-01
Rated

5

out of

5
by
BIGEXC
from
works good! does not spin like tire would.
I have almost a year! hard working unit. no problems with unit yet. heated grips are nice.
Date published: 2018-09-18
Rated

5

out of

5
by
foxigem
from
Eady operation
I got this last month because my husband wanted it before we started getting storms here in Fargo, North Dakota. He was able to use it yesterday and will have to use it again today. He has severe shoulder problems, so can not help me shovel snow. I am 51 and he is 61. We have 3 neighbor friends who are also 50's to 70's with medical problems. We live in a mobile home park and the road was plowed yesterday in a lull in the snow storm. My husband easily cleared the snow bank in front of our parking lot and then cleared our lot around our cars. He then continued to do the same for our 3 neighbors. After putting the snow blower back in the shed, and easily cleaning it up, he came back into the house and couldn't stop praising his new "play toy". This is the first winter, in the 20 1/2 years of our marriage, that he has not complained constantly about the snow. [This review was collected as part of a promotion.]
Date published: 2019-12-01
Rated

5

out of

5
by
mpho63
from
workes very good on deper snow
have used my 2890 for 42 months in Yakima Washington
Date published: 2019-02-11
Rated

4

out of

5
by
Gregoi
from
Best Buy for the Included Features and Build Qual.
I believe this Troy-Built unit is the best value in a tracked snowblower that you can purchase anywhere. I am in northern Idaho and have an 800 foot gravel driveway, the initial 150 feet of which is on a pretty severe grade (10 to 20%). Even though I have a pickup and ATV the fact that the driveway is gravel precludes the use of a plow. I looked at many brands, including those that cost thousands more than the Troy-Built and decided on this model. This is the third winter for this unit. Typical snowstorms here average 2"-6" with an occasional 10"-12" storm. Because of the length and type of my driveway it is easy to imagine that a typical use would last more than 10 times longer than what most folks would need with a typical urban driveway. A great torture test to say the least. Although the unit was not problem free, I have a lot of good things to say about it. OBSERVATIONS: First and foremost, I noticed that it performed great in most conditions. The steep portion of my driveway was the ultimate test and it did well, even when faced with the occasional icy conditions. A wheeled unit simply would never have worked with my situation. Hooray! Electric start – be aware that this unit does not have a battery and requires that you plug it into a 120 volt outlet to use the electric start. The thing is that I feel it is not needed and I never used it. Very easy to start as there is little resistance and fires up ion first pull Overall, steering via the Touch N Turn system worked well. Users must note that this type of tracked steering requires a slippery surface to operate, so trying to get the unit to turn on dry cement is not going to happen (will require some manhandling). I consider this a minor inconvenience. I did find the gear ratios to be a bit funky but switching between them was super easy. First gear was just a little too fast to bite through the compressed snow piles that the roadcrew snowplows would leave for me. The fastest gear was just right but there was little difference between 3rd and 5th gears (so at least one of them could be eliminated). There are two reverse speeds with very little difference noted between them. I only used the fastest one as I considered the slow one to be useless. This model has a gravel setting on the height adjustment which was the default setting that I used. The height adjustment is lever operated so I could quickly switch to a standard setting when doing my cement walkways. Due to the length of the driveway you can imagine that each time I took it out that it would be operated for an extended period. Any moderate snowfall would cause me to have to stop at some point to refill the gas tank. I do realize that for most folks that this would not be an issue. Most users know that your gloves will almost always get wet when using a snowblower so the electric hand warmers (built into the handlebars) were great! They only took 5-10 minutes to get to temperature. Headlight. Most folks who use snowblowers at night know that the typical headlight that comes with the snowblower (that doesn't have a battery starter) is poor at anything below full throttle. At full throttle it is usable but not great. A common option is for folks to purchase an optional LED lamp (or build one themselves). I'd like to see it offered as an option. I liked the electric chute control. I felt it was not a necessity but was still a nice option that was included on the model. Just be aware that it works best when the engine is at a high throttle. Build quality was a bit mixed. First the good. On several occasions I unintentionally discovered just how well made the general metalwork was on the auger, housing and the rest of the machine. The first time I, "Abused" the machine was when we had a snowstorm cover up some tools and miscellaneous equipment (from a garage addition going on). I had it at full throttle when, "Blam", a pair of pliers went flying out of the chute! Although the pliers were destroyed a check of the augers and other components showed no damage! A few minutes later a screwdriver followed suit, again with no damage to the unit except for a broken shear pin. Replaced the pin and a few minutes later I'm back at blowing snow. As you can imagine the gravel driveway also provided it's fair share of oversized rocks that caused broken shear pins over time (but that is what they are designed to do). Great job overall Troy-Built! Now for the negatives, which thankfully are just two. The warranty is for two years, a plus. In year three I experienced the main issue which was that the engine would suddenly quit running for no apparent reason. After much troubleshooting the issue was determined to be that the grounding wire to turn off the engine was shorted due to a faulty plastic insulator that vibrated out of its holder (a press/fiction fit). Hopefully they have corrected this issue. The second issue is that the chute control stopped working and required parts replacement. Not really unexpected and was still fully usable via backup controls Overall I feel the build quality is great in metalwork and good mechanically. THE GOOD: • Very good performance overall • Tracked system • Great steering controls • Main metal components take a lot of punishment • Weight transfer/height adjustment system • Heated handlebars • Shifting transmission COULD IMPROVE: • Transmission gear ratios (could remove 2 unnecessary gears) • Attachment hardware/methodology on some engine components [This review was collected as part of a promotion.]
Date published: 2020-01-07
Rated

5

out of

5
by
notcold
from
Great Product
This was purchased to upgrade from the Storm 2410, as my driveway isn't fully level due to cracks and heaving. The tracked unit is great as it has adjustments for surface grades. The steering feature also helps as the unit doesn't require pivoting on the skids.
Date published: 2015-11-21
Rated

1

out of

5
by
Joe
from
3 stage blower is a poor design and waste of money
Two outer augers get clogged unless you are blowing dry power snow. Pushes the snow better that blowing. Move 10 feet, stop and clean augers. Poor design and would not purchase another three stage. My neighbor has a two stage and cleans his driveway in a quarter of the time it takes me. I live in mountains of Colorado and we seldom deal with wet snow and the auger head still gets clogged at the two outer augers then pushes snow better than blowing it. [This review was collected as part of a promotion.]
Date published: 2019-11-26
Rated

3

out of

5
by
Bouvs
from
Many problems
Steering function (both ways) does not work. Call to company did not help. Engine runs rough after some amount of use. No local designated service facility. [This review was collected as part of a promotion.]
Date published: 2020-01-07
Rated

3

out of

5
by
Zgniet
from
it's OK, but
Had this for 2 yrs now. Starts great, works well. But I think the wheeled blower is easier for me to use rather than this tracked one. Great disappointment with the windshield covering. A crackled plastic instead of a clear one makes little sense, I am wiping off snow every 30 seconds it seems. So, good machine? Yes. But needs improverment. [This review was collected as part of a promotion.]
Date published: 2020-01-12
Rated

5

out of

5
by
Cal
from
A Good Performer
Purchased this Fall and used 3 times to really clear my flat driveway 150' x 300'. All works well! The "Track features" awesome! The only feature issue is the plug-in for electric start on side of with start button, a round metal over plastic rod has lost the metal covering. [This review was collected as part of a promotion.]
Date published: 2020-01-13
Rated

5

out of

5
by
Dan1959
from
Best snow blower
We've had this snowblower for about 4 years. Took me awhile to get used to letting the machine do the work and it truly does. My wife even volunteers to do the job because it is easy to use. Had replace the pull cord and routine maintenance but otherwise great machine. [This review was collected as part of a promotion.]
Date published: 2020-01-09
Rated

1

out of

5
by
rsguy
from
Reserving Judgement
Just had it delivered. Tried working my way through the User Manual. WHAT A JOKE! #1, there should be an easy-to-follow online video available to show how to assemble the snow thrower. #2, there should be a specific video and User Manual for each variation of the snow thrower. In other words, the User Manual should be specific to the EXACT model that was delivered. Why should your customers have to figure out which of five different chute designs that came with their unit? #3, the unit was shipped with just enough oil to hit the LOW mark on the oil stick. Now I have to go out in a snowstorm to buy oil before I can safely use the unit. I can see where you might not want to fill the oil to brim for shipping and handling purposes, but would it have killed you to ship a small container of oil with each unit? Not off to a very good start. Hopefully I can get it assembled correctly and filled with the correct oil. I've made a big investment in this snow thrower and we're off to a disappointing start.
Date published: 2019-01-28
Rated

5

out of

5
by
NE snow is no match
from
An Awesome machine
This unit is on it fifth season and still throws snow like no tomorrow. It has been a great unit and has only had normal wear tear items needing to be fixed. This is the only snow thrower I would buy. [This review was collected as part of a promotion.]
Date published: 2020-01-08
Rated

5

out of

5
by
Campyeac
from
Easy Starting, Great Traction
This is the third winter for the snow blower, and it performs very well. It is easy to start and the track drive has excellent traction in all conditions [This review was collected as part of a promotion.]
Date published: 2020-01-08
Rated

5

out of

5
by
Icelandic
from
five star
I was very lucky I decided to get this unit. I clear the snow around my yard then head down the street and clear the drive way next door. It has started on the 3rd pull every time even at zero degrees .
Date published: 2017-01-10
Rated

5

out of

5
by
Johnbw
from
Great Machine!
I'm on my third winter with it, my driveway is 450ft long, uphill. 4 passes and i can drive up and down. [This review was collected as part of a promotion.]
Date published: 2019-12-13
Rated

5

out of

5
by
SJ
from
Love the track drive!
Bought this in December. The track drive works well on my sloped driveway. Heated grips are a mist! [This review was collected as part of a promotion.]
Date published: 2020-01-23
Rated

5

out of

5
by
Mark
from
Does well
Just what I was looking for at a fair price and well built. [This review was collected as part of a promotion.]
Date published: 2020-01-04
Rated

5

out of

5
by
Haggs
from
needed a track driven snowblower
have a steep driveway and tracks go up and down easily [This review was collected as part of a promotion.]
Date published: 2019-07-11
Rated

4

out of

5
by
H
from
GREAT
LOVE THE TRACK DRIVE, ELECTRIC START, 3 STAGE SYSTEM. [This review was collected as part of a promotion.]
Date published: 2020-01-07
Rated

1

out of

5
by
Jim
from
Won't turn
Received two of these in one month. Neither worked on a arrival. They would not turn.
Date published: 2020-01-18
bvseo_sdk, dw_cartridge, 18.2.0, p_sdk_3.2.0
CLOUD, getReviews, 70ms
reviews, product