1. Why choose a snow blower? 
Shoveling snow takes time, and if you live in areas where snowfall is frequent or heavy, it quickly becomes part of your daily routine. A snow blower can help make life easier by eliminating the heavy lifting and repetitive strain that comes with shoveling snow. A couple of reasons to justify a snow blower purchase include:
Save your energy
Shoveling includes a lot of heavy lifting, throwing and unnatural twisting and turning, each presenting hazards for injuries without even taking icy conditions into account. Those risks are reduced with a snow blower, eliminating strenuous motions, keeping you upright and stable even through icy patches.
Spend more time enjoying winter
We all have places to be and sometimes it can take hours to shovel your drive. With a snow blower, you'll be able to plow through the task in about 20 minutes, giving you more time to focus on your day and enjoy what winter has to offer.
Have fun
Shoveling is a strenuous task, but a snow blower powerfully brushes heavy snow aside, turning an unsavory chore into satisfying and enjoyable work.
Be the helpful neighbor
Once you're done efficiently plowing through your drive, you have more time to pay it forward and lend a helping hand to those who might not have the time to plow snow.

2. What should I consider before purchasing a new snow blower?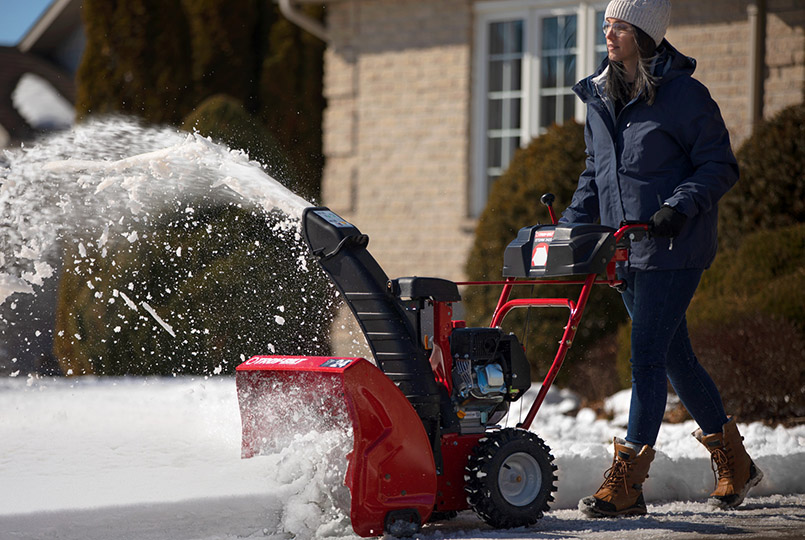 Buying a new piece of outdoor power equipment can feel overwhelming at times, and snow blowers are no exception. There are a lot of different types of machines and accessories to think about, but the top thing to remember is to pair a snow blower to the job at hand. Here are some things to consider:
 

How much snowfall do you typically get?
There are three types of snow blowers. The more stages, the more snow the machine can handle (when compared to a comparable model). Troy-Bilt® Single-Stage Snow Blowers are ideal for up to 6-inches of snowfall, Two-Stage Snow Blowers are great for up to 12-inches of snowfall and Three-Stage Snow Blowers can handle up to 18-inches of snowfall.
What type of terrain are you clearing snow from?
Key step up features found in 2-stage snow blowers are ideal when tackling gravel surfaces or cracked pavement, even if you're only clearing a small or mid-sized area. Consider a model with power steering or a track drive when tackling rough surfaces, and an auger-assisted or push-propelled machine if you're clearing a solid, even paved surface.
What do you need from your snow blower?
Once you've determined your basic snow-clearing needs, think about your needs as the operator to help identify any features or accessories that would be beneficial. Power steering and electric start are helpful features designed to make clearing snow easier by reducing the strain on your body with reliable starting and easy handling. Headlights are great for low-visibility conditions and heated hand grips help keep your hands warm during the cold months.

3. When is the best time to buy a snow blower? 
It's best to get ready for winter before it hits so you won't be in desperate need if you get snowed in. Finding a snow blower in September or October, before the official snow season, will give you plenty of time to be prepared.

4. What is the difference between a single-stage snow blower, two-stage snow blower and three-stage snow blower? 
The various stages of snow blowers signify the steps a snow blower goes through to clear the snow. The more stages, or steps, a machine has, the more powerful and efficient it will be to clear more snow in less time. Single-stage snow blowers are ideal for smaller jobs like walkways and short driveways. They are light, compact and easy to handle. But if you get more snow, have unpaved surfaces with inclines or a longer driveway, you'll want to consider a 2-stage or 3-stage snow blower that will help clear larger volumes in larger areas. 
Single-Stage Snow Blowers
Single-Stage Snow Blowers are an ideal choice for smaller jobs like short driveways or walkways. With one auger that breaks, scoops and throws snow, single-stage snow blowers can handle up to 6" of light snow. They are also lightweight and compact compared to 2-stage and 3-stage models, making them ideal if you're tight on storage space or need to maneuver through narrow spaces.
Two-Stage Snow Blowers
If you're regularly needing to clear up to 12" of snow, or are clearing snow from uneven terrain, Two-Stage Snow Blowers are the way to go. These units have an auger and an impeller. The auger breaks and scoops up wet and heavy snow, then the impeller throws snow out and away from the path, allowing it to take more snow and throw it further than a single-stage model. Troy-Bilt's 2-stage snow blower models feature a variety of helpful features — like headlights, heated hand grips, push button electric start and power steering — to make the job easier.
Three-Stage Snow Blowers
The strongest unit on the market, Three-Stage Snow Blowers also feature an accelerator that spins 10 times faster than the augers to break down and quickly clear heavy, wet snow. This allows you to clear snow 50% faster than a comparable Troy-Bilt 2-stage snow blower. Three-stage snow blowers power through ice, snow and slush with its three-step system and is ideal for areas that get up to 18" of snowfall. Troy-Bilt's 3-stage snow blower models will easily brush winter aside and allow you to get back to doing what you love most.
The different type of snow blowers and the work they are best suited for: 
| | | | | |
| --- | --- | --- | --- | --- |
| | Single-Stage | Two-Stage | Three-Stage | |
| Snowfall | Up to 6" | Up to 12" | Up to 18" | |
| Snow type | Light | Moderate | Heavy | |
| Clearing Width | 21" | 24-30" | 24-30" | |
| Surface | Paved | Paved/Gravel | Paved/Gravel | |
| Throwing Distance | Up to 30' | Up to 40' | Up to 40' | |
5. What specifications should I consider when buying a snow blower?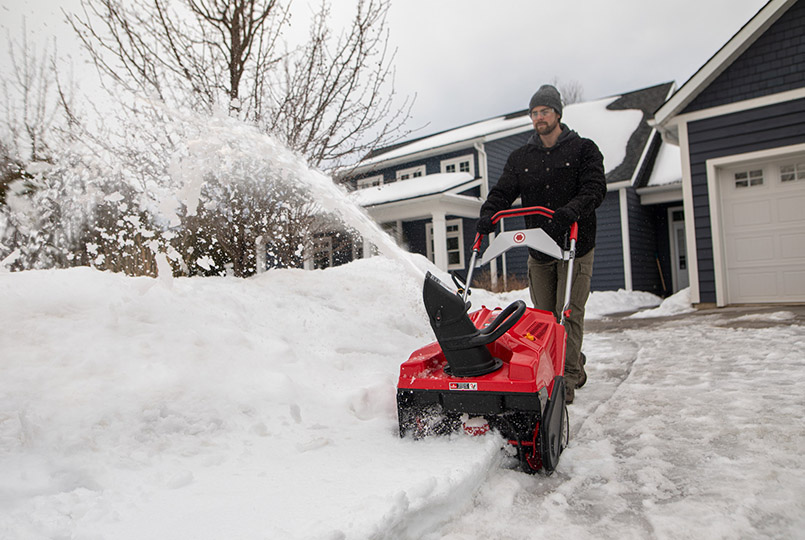 Finding the right snow blower model for you is based entirely on your personal needs and preferences. Here is a guide to some key snow blower specifications and why they are important to consider:
Clearing width
The larger the clearing width, the fewer passes you'll have to make to clear your driveway, because you'll be able to cover more space every pass.
Adjustable Skid Shoes and Shave Plate
Both come in handy when clearing snow from uneven, cracked or gravel surface. The skid shoes allow you to raise the shave plate so the unit can ride over the gravel or uneven surface to avoid picking up unwanted debris and throwing it onto your lawn. Single-stage snow blowers have auger paddles that come in direct contact with the ground while 2-stage and 3-stage models are designed with adjustable skid shows that allow you to adjust the clearing height of the auger housing depending on the type of surface you're clearing snow from.
Engine sizes
Larger engines support faster drive systems and easier maneuvering. Units with larger engines and more power have greater capability to plow through deeper snow conditions. Keep in mind that bigger engines are not always necessary for the average driveway. You want to pair the right sized engine with your area's ideal snowfall and driveway size.
Throwing distance
If you have a wide driveway, a long throwing distance will help you move the snow away from your clearing path. Shorter throwing distances will work for smaller driveways.
6. What features should I consider when buying a snow blower? 
Snow blowers are built to make snow clearing safer, easier and more efficient all winter long. Troy-Bilt models come with helpful features that can make the process even better. Here is a quick guide to snow blower features:
Electric start
Don't strain your back pull starting a cold machine, instead push a button and go.
Trigger control power steering
With Touch 'N Turn™ you can turn heavier 2-stage and 3-stage units on a dime as you reach the end of your driveway or navigate curved paths.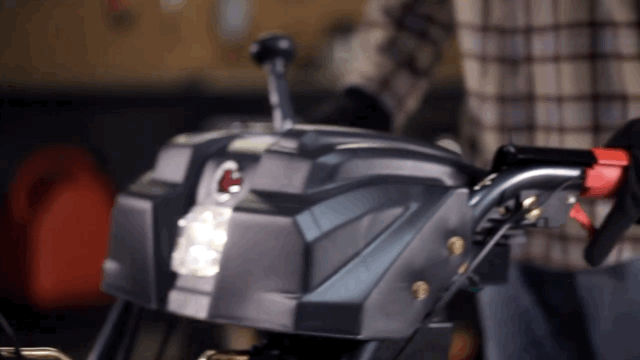 One hand operation
Units that feature to Just One Hand™ operation allows you to navigate the unit with one hand, freeing up the other to adjust other controls such as the chute without stopping.
Airless tires
Won't go flat and reduce maintenance requirements while providing the same reliable traction you need to clear snow effectively.
Heated grips/handlebars
If you're out there working in cold temperatures, heated hand grips keep your hands warm for more control and comfort.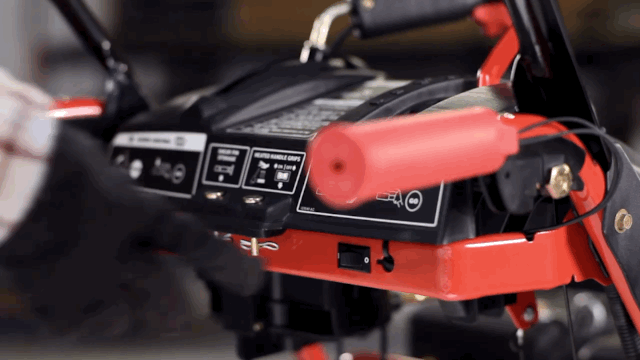 Headlights
Winter isn't the brightest time of the year, but headlights will help you see better when clearing in areas with low visibility.
Skid shoes
Adjustable skid shoes make handling and maneuvering easy by gliding over surfaces and prevent rust on garage floors, driveways, and sidewalks because they are made from a rugged polymer material.
Quiet engines
Troy-Bilt's NoiseGuard™ technology reduces engine noise, allowing you to operate your machine earlier, or later, without disturbing your neighbors or sacrificing power (only available on select models).
7. Why choose a Troy-Bilt snow blower? 
Troy-Bilt snow blowers are designed to help you brush winter aside and get back to doing what you love most with helpful features designed to make the task a little easier. All Troy-Bilt snow blowers are backed by strong warranties and engineered to be rugged, durable and reliable.
8. What snow blower is best for...
It's easy to overlook the ground you'll be clearing over, but it's paramount to consider the surface you'll be clearing when choosing a snow blower. Uneven terrain or gravel can impact the type of snow blower best suited for the job. While clearing area size should also be taken into account, here is a quick guide:
Best snow blower for small driveways:
If you're only expecting up to 6" of snowfall, aren't covering a lot of ground and your driveway is smooth, a single-stage unit will work just fine. Lightweight and compact, these units are easy to maneuver and don't take up a lot of storage space. And Troy-Bilt has multiple units with an auger-propelled drive, which will make maneuvering the machine even easier. If you're worried about scratching the pavement, Troy-Bilt has multiple single-stage models that utilize rubberized auger paddles, which won't cause damage to the surface.
Best snow blower for tight spaces:
If maneuverability is important to you and you're not working on an uneven surface, consider a single-stage model because of its lightweight size and ability to fit through narrow spaces (though 24" and 26" 2-stage and 3-stage units also can navigate tight spaces). One with an auger-propelled drive will be even easier to maneuver. However, if you're clearing more than 6" of snow or are faced with uneven pavement or gravel, consider a 2-stage or 3-stage model with skid shoes and Touch 'N Turn™ trigger controlled power steering so you can avoid throwing gravel onto your yard while still turning on a dime.
Best snow blower for late night/early morning clearing:
If you find yourself needing to clear snow before sunrise or after sunset, you might not have enough light to get the job done. Troy-Bilt models equipped with headlights allow you to work earlier, or later, depending on your needs.
Best snow blower for gravel: 
When facing uneven pavement or a gravel driveway, you will want to find a model that allows you to adjust the intake height with adjustable skid shoes. Skid shoes are needed on stone or gravel driveways so that they lift the scraper bar above the gravel and stone, otherwise, the scraper bars will sit flush with the ground and pick up stone/gravel degree and discharge through the chute. All Troy-Bilt 2-stage and 3-stage models are equipped with skid shoes. Units with a track drive also work well on uneven surfaces, like gravel.
Best snow blower for stamped concrete:
Skid shoes will prevent the augers from touching and damaging the concrete surface, so 2-stage or 3-stage model would be ideal. But if you're not clearing more than 6" of snow, keep in mind that Troy-Bilt has a selection of single-stage models that equipped with its AugerAssist™ clearing system, which utilizes rubber coated auger paddles so they won't cause damage to the surface.
Best snow blower for a wooden deck:
A lightweight unit like a single-stage model usually works best on a wooden deck as long as the auger paddles aren't sharp, otherwise they will damage the surface. Troy-Bilt has a selection of single-stage models that utilizes rubber coated auger paddles, making it an ideal choice when you're looking to avoid scratching the surface you're clearing.
Best snow blower for steep slopes or terrain:
When facing uneven slopes, cracked terrain or gravel, a track drive is ideal because it provides the best traction. Troy-Bilt's D-Track drive system that creates 50 percent more ground contact, added stability and traction in heavy snow and ice. Touch 'N Turn™ trigger controlled power steering also allows you to turn on a dime even when clearing over tough terrain.
9. How to operate a snow blower safely? 
Operator error is the number one cause of clogs and breakdowns, and improper clearing of clogs is the most common cause of injuries. Keep yourself safe and your snow blower working efficiently with these tips: 
Snow blower safety before you turn it on: 
Make sure that you are familiar with all snow blower controls and their proper operation
Be familiar with the safety tips specific to your model, available in your operator's manual. Make sure you know how to stop the snow blower and disengage it quickly
Never allow children under 14 years of age to operate a snow blower. Review snow blower safety with children over 14 before they operate it
Plan your pattern to avoid discharge of material towards roads, bystanders, your home and other objects. Thrown objects can cause serious injury
Inspect the area you intend to clear and remove anything that might obstruct your machine (doormats, newspapers, sticks, boards and other objects that could be tripped over or thrown by the snow blower auger/impeller)
Always wear protective eyewear during operation and while performing an adjustment or repair to protect your eyes
Be aware that clothing can become entangled in moving parts of the snow blower Do not wear jewelry, long scarves or other loose clothing items while operating
For snow blowers with a corded electric start engine, use a grounded three-wire extension cord and receptacle
To clear snow on gravel or crushed rocks, adjust the snow blower collector (auger) housing height to avoid throwing rocks. Do this using the adjustable skid shoes.
Before starting the snow blower engine, disengage all control levers
Snow blower safety during operation: 
Never attempt to make any adjustments or repairs to the snow blower while the engine is running, unless otherwise stated in your manual
Never use your hands to clear a clogged chute assembly. Shut the engine off and remain behind the handles until all moving parts have stopped before unclogging. Then, use the snow blower chute clean-out tool, which is conveniently clipped to the rear of the auger housing
Create a safety area of 75 feet around the snow blower to keep bystanders, pets and children away from the equipment. Stop the snow blower if anyone enters the area
Exercise caution to avoid slipping or falling. When the snow blower is in reverse, pay special attention to your footing
Before clearing snow, let the engine and machine adjust to cold outdoor temperatures
Do not use a snow blower on steep slopes and use extreme caution when clearing snow from mild slopes. Do not use the snow blower in heavy snow or with minimal visibility
10. What snow blower replacement parts do I need?
There's always a chance you will need a part during, or right after a snowstorm (after all, that's when you're most likely to use your snow blower). But in wintry conditions, it isn't always convenient to go out and buy parts and the part you need may not be readily available. Be prepared for this type of emergency situation by having the following spare parts on hand:
Spark plug
Oil and fresh fuel
Key
Fuel stabilizer (Troy-Bilt recommends STA-BIL fuel additive and stabilizer for its gas-powered outdoor equipment to maintain the gasoline's effective life longer and prevent future fuel system problems.)
Consult your Operator's Manual and/or Illustrated Parts List for exact part numbers and/or location of these components on specific units. Find your Troy-Bilt machine operator's manuals here. Troy-Bilt genuine parts are available online.