Super Bronco Garden Tiller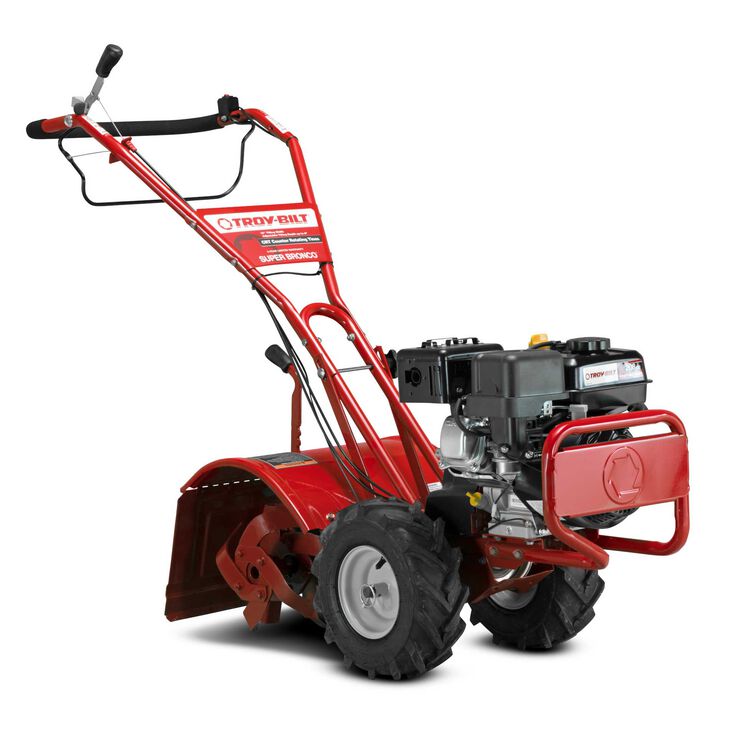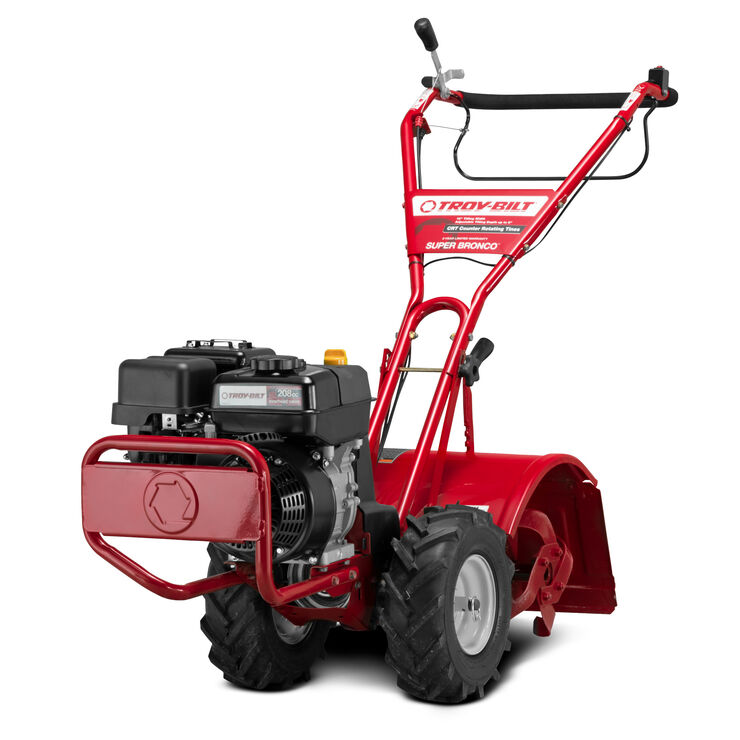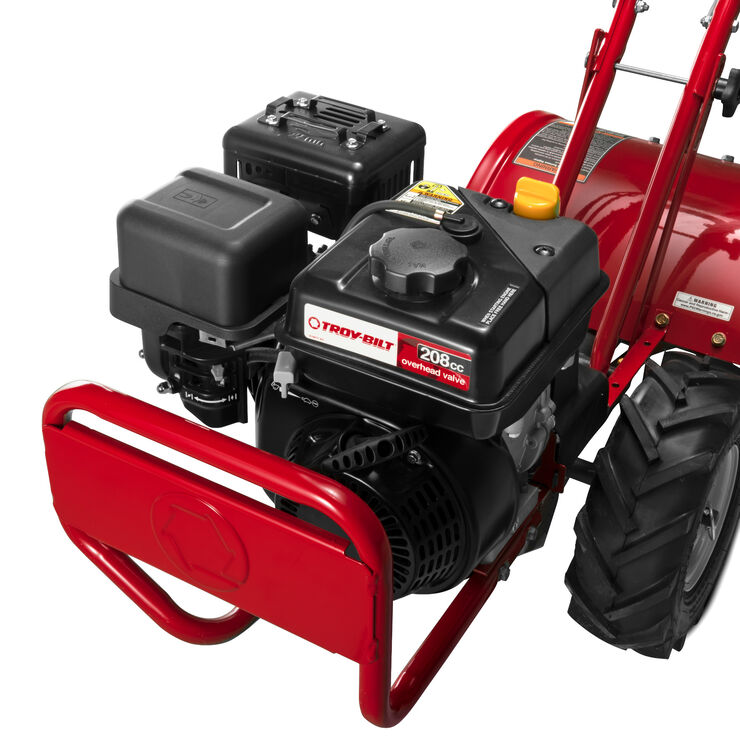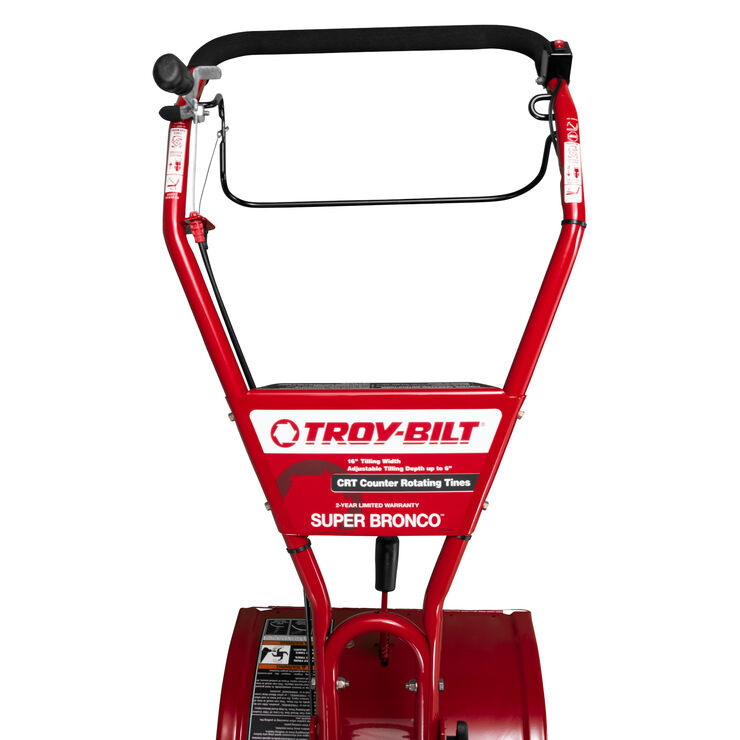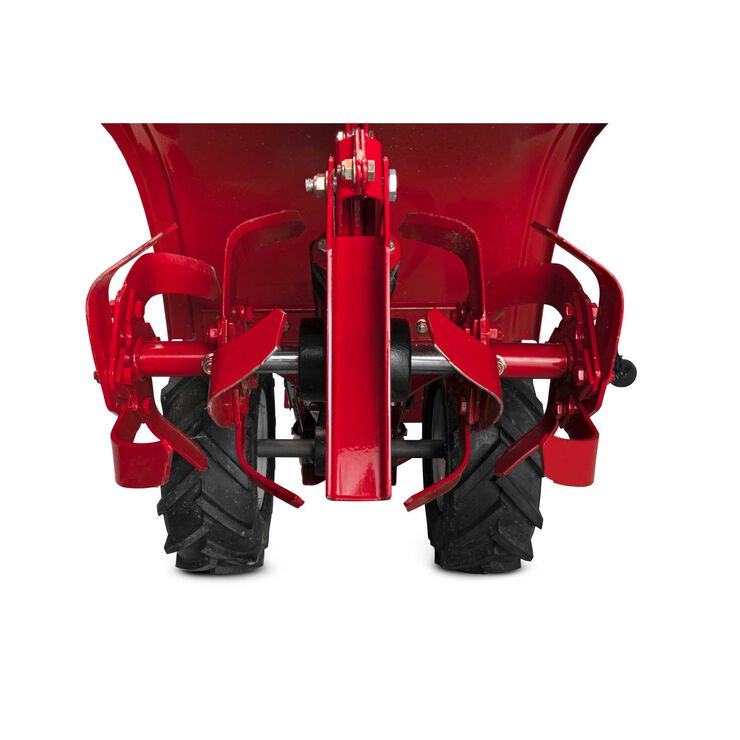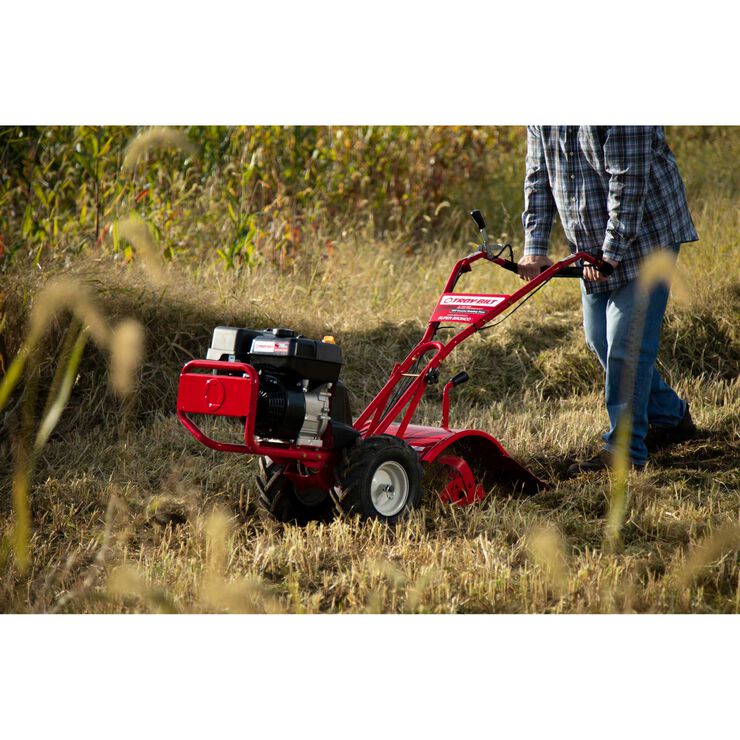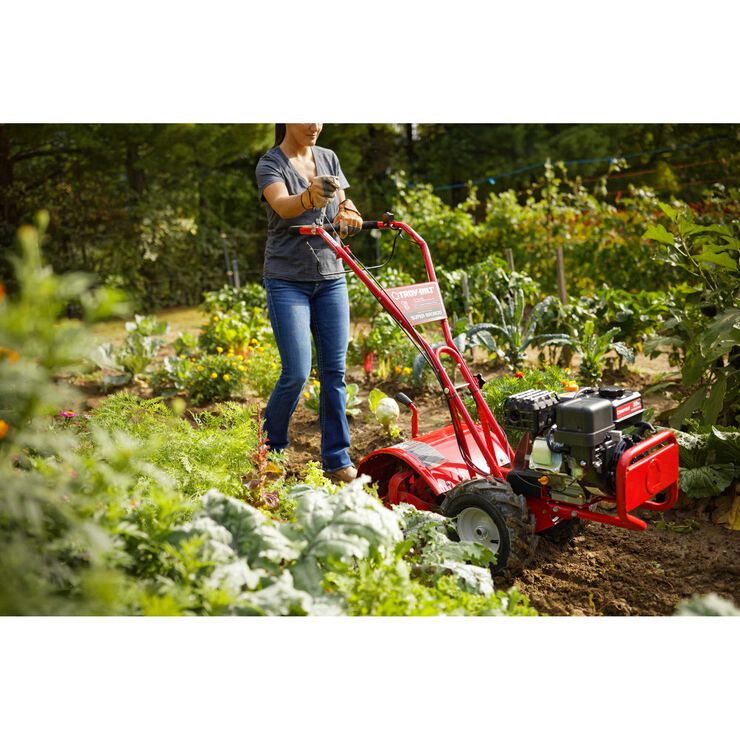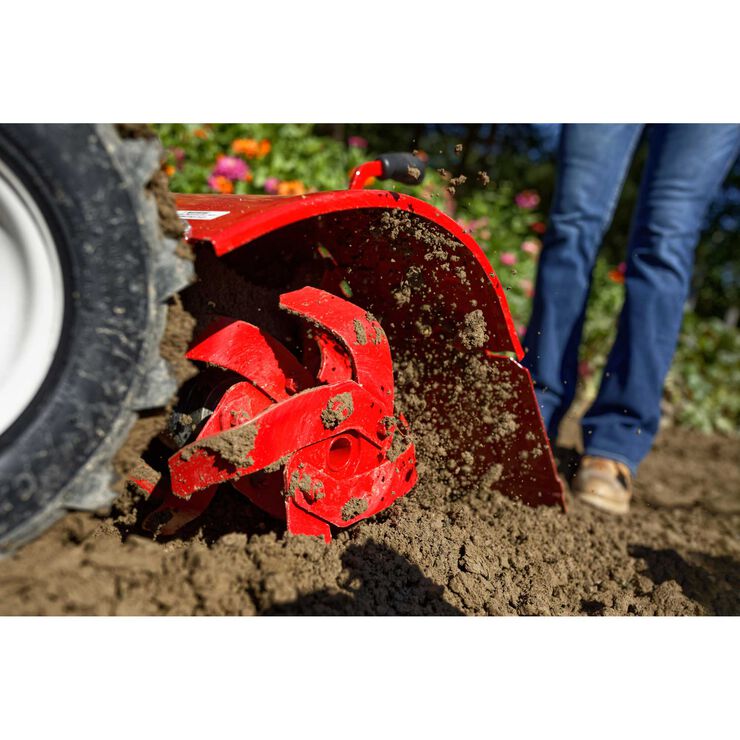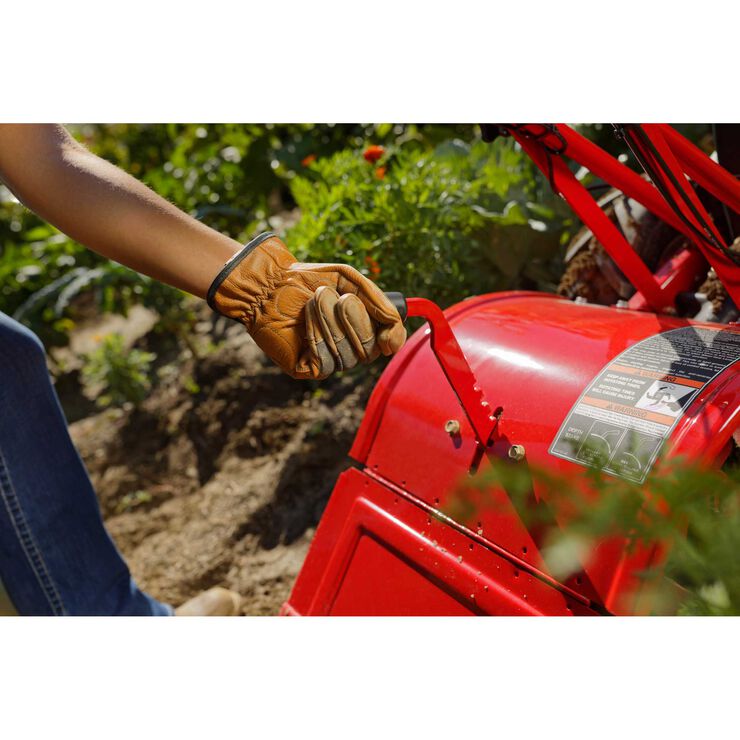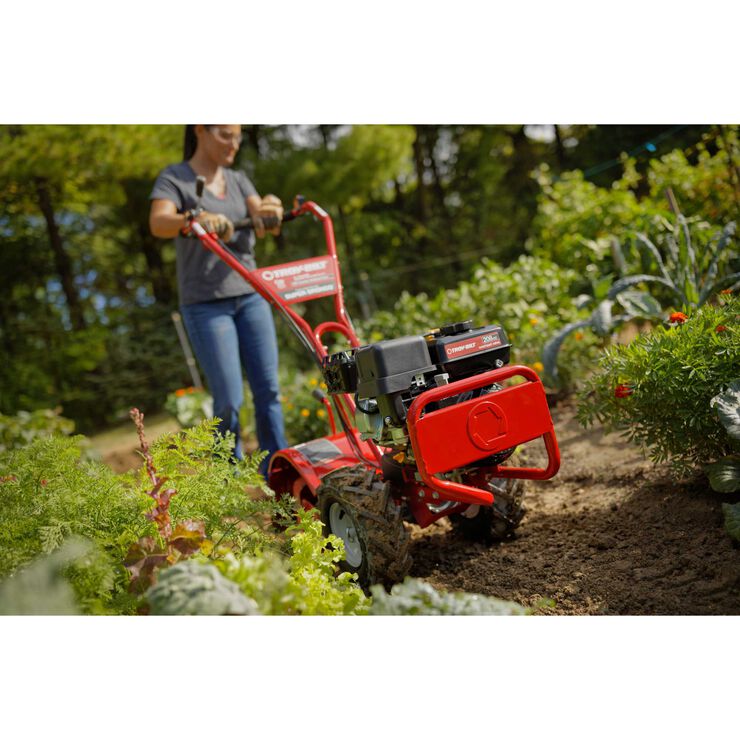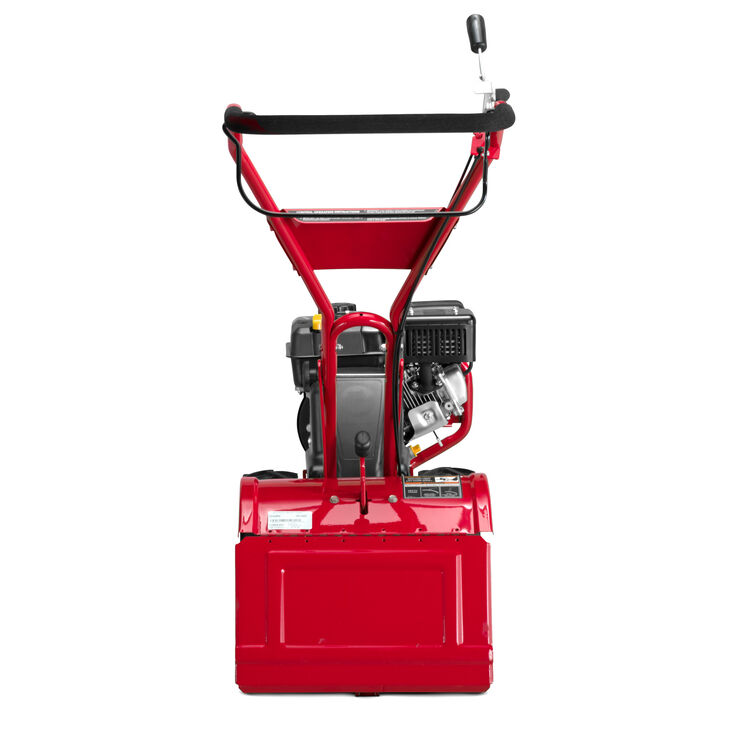 Super Bronco Garden Tiller
---
The Troy-Bilt Super Bronco CRT rear-tine tiller provides great value for gardens of all sizes. Just One Hand™ technology allows you to operate the tiller with one hand. A heavy-duty gear drive transmission enhances durability.
The Troy-Bilt Super Bronco CRT is a rear-tine tiller with the power to break through hard-packed soils with counter-rotating tines.
16-inch tilling width makes the Bronco CRT ideal for any size garden.
10-inch Bolo™ tines with depth stake for up to 6-inches of tilling depth.
A 208cc OHV Troy-Bilt engine gives you plenty of power to turn over large amounts of soil.
Just One Hand™ operation allows the tiller to be guided with literally one hand thanks to a well-balanced and easy to control design.
Gear drive transmission with 1 forward speed helps keep tiller moving through soil.
Power reverse allows for flexible handling around rocks and other obstacles.
Wider 1-inch handles provide greater stability.
13-inch agricultural tires enhance traction and stability.
The included front bumper protects your tiller's engine.
Tiller can also be used to help prepare areas for seeding and mixing compost in the pile or into your soil.
Troy-Bilt has a limited lifetime transmission warranty on cast iron gear casting and precision cut bronze gears.
2-year limited warranty on other components for peace of mind.
Super Bronco Garden Tiller Features
Heavy Duty Transmission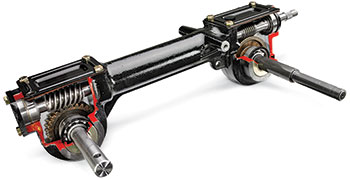 A cast iron gear casing and precision cut bronze gears in the heavy-duty transmission provide extra strenth and durability, plus they're covered with a limited lifetime warranty
Just One Hand Operation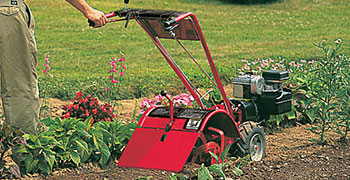 Guide the tiller with just one hand thanks to a well-balanced and easy to control design
Bolo Tine Design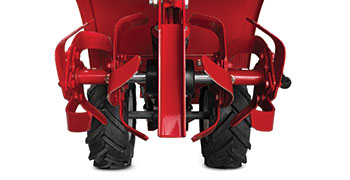 Unique, bolo-designed tines alternatly slice, chop and turn soil with ease, while thoroughy and deeply mixing soil to create finely textured, well-aerated seedbeds
Rear Tine Tillers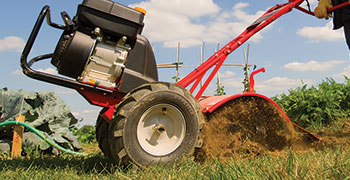 These tillers are best for breaking new ground and powering through hard-packed, challenging soil. Best for med-large size garden beds.
Counter Rotating Tines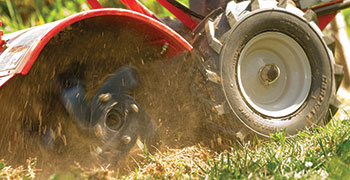 By rotating in the opposite direction as the wheels, counter rotating tines break up hard-packed or clay soils more easily than forward rotating tines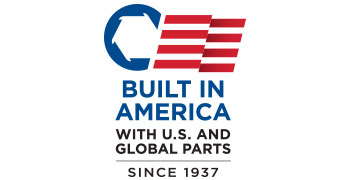 Power Reverse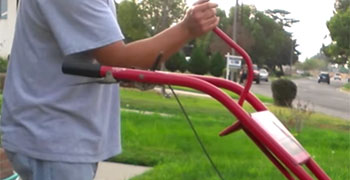 Get out of tight spots and around rocks and other obstacles with the flexible handling of power reverse
Engine
Engine Brand

Troy-Bilt®

Engine Model Number

170-AUC

Engine Displacement

208cc

Starter Type

Recoil

Engine Oil Capacity

20oz
Drive System
Speed

One forward / One reverse

Drive System

Bronze Gear

Transmission Housing

Cast Iron
Warranty
Warranty

2-year limited

Commercial Warranty

No

Transmission Warranty

Lifetime limited
Controls
Handle

Adjustable Loop

Handle Grip(s)

Foam
Additional Specifications
Recommended Oil Type

SAE 10W-30

Model Number

21D-65M8766
Specifications
Rear Shield

Yes

Side Shield

Non-Adjustable

Tilling Depth

6"

Tilling Diameter

10"

Tilling Width

16"

Tine Rotation Direction

Counter-rotating

Tines

Steel

Wheels

13" x 5" Pneumatic
Tiller Tine Specifications
Tine Rotation Direction

Counter-rotating

Tine Location

Rear

Tilling Diameter

10"
Disclaimer
Specifications Disclaimer

Specifications subject to change without notice and without incurring obligation. Products depicted on website and other advertisements are for demonstration purposes only. Actual products offered for sale may vary in design, required attachments, safety features and non-functional appearance from. See other general disclaimers at the bottom of our website.
| Model | Manual | Form Number | |
| --- | --- | --- | --- |
| 21D65M8766 | MANL:OPER:BILING:179/208/243cc | | |
| | MANL:OPER:BILING:179/208/243cc | 769-11570B | Download |
| | MANL:OPER:BILING:179/208/243cc | 769-11570D | Download |
| | MANL:OPER:BILING:179/208/272/2 | 769-15010 | Download |
| | MANL:OPER:BILING:179/208/272/2 | 769-25211 | Download |
| | MANL:OPER:BILING:CONS SF CRT | 769-18770 | Download |
| | MANL:OPER:BILING:CONS SF CRT | 769-18770A | Download |
| | MANL:OPER:BILING:MTD:179/208cc | 769-06052G | Download |
| | MANL:OPER:BILING:TB SF CRT | 769-09541 | Download |
| | MANL:OPER:BILING:TB SF CRT | 769-10478 | Download |
| | MANL:OPER:BILING:TB SF CRT | 769-11267 | Download |
| | MANL:OPER:BILING:TB SF CRT | 769-12041 | Download |
| | MANL:OPER:ENGINE:MTD:179/208C | 769-06052D | Download |
| | MANL:OPER:ENGINE:MTD:179/208C | 769-06052F | Download |
| | MANL:OPER:FRENCH:CONS SF CRT | 769-18770A_FR | Download |
| | MANL:PARTS:2014:TB 21X-6XX | 769-09289 | Download |
| | MANL:PARTS:2015:TB 21X-6XX | 769-10185 | Download |
| | SHEET:SUP:BILING:EPA:CARB:EVP: | 769-15172 | Download |
| | SHEET:SUP:BILING:EPA:CARB:EVP: | 769-17170 | Download |
| | SHEET:SUP:BILING:EPA:CARB:EVP: | 769-23591 | Download |
| | SHEET:SUP:BILING:EPA:CARB:EVP: | 769-25880 | Download |
| | SHEET:SUP:BILING:EPA:CARB:EXH: | 769-15174 | Download |
| | SHEET:SUP:BILING:EPA:CARB:EXH: | 769-17172 | Download |
| | SHEET:SUP:BILING:EPA:CARB:EXH: | 769-23593 | Download |
| | SHEET:SUP:BILING:EPA:CARB:EXH: | 769-25882 | Download |
| | SHEET:SUPP:WARR/PARTS:TB RT CR | 769-18870 | Download |
| | SHEET:SUPP:WARR/PARTS:TB RT CR | 769-18870A | Download |
| | SHEET:SUPP:WARR/PARTS:TB RT TI | 769-12045 | Download |
Product Reviews
Rated

5

out of

5
by
OldCOBOLDog
from
1ST Tiller
I recently bought a house with 2+ Acres of land. I removed some existing trees and other items and wanted to plant my own Fruit trees, Blueberry, Blackberry, and Raspberry bushes along with a Vegatable Garden. I had several areas that needed to be tilled. The research I performed let me know based upon the area I was going to plant, a Rear Tine Tiller was recommended. After performing research on the internet, I decided upon the Super Bronco. I have been very happy with this Tiller, and am happily on my way of making this house and land my home and being self sufficient with produce. Thank You TROY-BILT !!
Date published: 2013-11-15
Rated

5

out of

5
by
BigJ
from
Make Gardening Easy
As a 'senior citizen' owner of the Super Bronco tiller, I have to express my appreciation for a well-made and high performance machine. I am 73 years old, with a lung disease that is somewhat crippling, but I am able to break up Alabama red clay soil with the greatest of ease. It's actually a one-hand operation, as the tiller is so well balanced. I thought my gardening days were over, but Troy-Bilt has come through again and allowed me to enjoy a very productive crop. But I guess that is no surprise - when you use the best, you get the best.
Date published: 2013-05-07
Rated

5

out of

5
by
Willie
from
Better than a mule
A lady that I work for asked me to bring my tiller over so I could till up some areas on her yard. I told her that I couldn't because my tiller had thrown a rod through the block. She responded :well maybe I can buy one." She asked me what kind she should get and I suggested one with rear tines because of the ease of using them. We went to Lowes where we found this one. She purchased it and we went to her house and tilled up the area that she wanted tilled. It was like driving a Cadillac. Then she told me, "Take it home, it's yours." I have been using it now for about three years. It has never failed me.
Date published: 2013-04-28
Rated

4

out of

5
by
Michlobo
from
Easy handling tiller
Tiller is very easy to use. Even my 12 year old granddaughter was able to till the garden with it on her first try. The reverse is a real asset. The only negative I find is the lack of a neutral setting for moving the tiller around. Having to change the klik pins each time I need to move it in or out of the garage is a bit annoying but once I get use to do it I'll be fine. Needs a better do it yourself repair manual since I'm 30 miles from the nearest service place. I also own an old Horse model from the early 90's that ran great until last year when I had shoulder sugery and had to downsize to a smaller tiller. Hope to get back to the larger tiller soon!
Date published: 2014-06-06
Rated

5

out of

5
by
LarryB
from
Super Bronco CRT
I did a lot of research before buying this tiller. I thought about getting the smaller Bronco but thanks to my wife making sure that I was getting one big enough, I went with the 16 inch with reverse. I have a 75ft by 75ft garden and the tiller went through the hard ground with ease. It took me less than 4 hours to complete a job that would have taken much more time with the old front tine that I was using. Wonderful product and would recommend to anyone.
Date published: 2013-10-24
Rated

5

out of

5
by
Eston
from
Great tiller
Starts first pull every time, Reverse would be nice but for the price you cant beat it. I have had the horse and pony models in the past but the super bronco is ideal for the little garden I have now (about 400 Square ft) It does a great job of breaking up the soil here in south east Texas. The only thing I don't like about it is the tine guard is flimsy and the foam grip on the handle is not at all durable. A lot of my tilling is done along a fence line and the foam grip didn't last a day before it was torn. But troy built beats any other brand I have ever used.
Date published: 2014-04-18
Rated

3

out of

5
by
Jeff24
from
Needs updates
I bought the Super Bronco CRT back in 2006. No problems with the Techesen engine at all. I have had to replace the belts several times. Overhaul the transmission once.and replace the tines once.Also weld the handle on one side. The problems as a see them are the CRT pull grass, weeds etc. up under the tiller. I hate having to remove the pins out ot the wheels so the tiller will free wheel. The wheels need to be a lot wider as the counter rotation and wheels are pulling against each other thus making me have to push the tiller along. Updates should be a way to release wheels without having to remove and replace pins. Wider tires and CRT and Forward rotation tines.
Date published: 2018-09-10
Rated

5

out of

5
by
FlaWeedsAreTough
from
7 years and still growing
Yes, 7 years with my Super Bronco and we have the best garden out this year of all past ones. You can't beat the Troybilt history nor engineering in these tillers. They are tough as nails and will till where others just lurch and wish they had they power and ability to dig in. My "other" tiller that this one replaced was simply way to lacking in the ability to do the job- even in Florida loam/sand! It was twice the weight and half the tiller. Yes, it was a rear tine as well. If you are seriously considering a lightweight, durable and easy to use tiller, look no further than the Troybilt Super Bronco. Once you use it to keep down the weeds between your rows and aerate the soil and watch things grow because of the tilling, you will NEVER buy anything else.
Date published: 2013-04-10
Rated

5

out of

5
by
WestDog
from
A solid, dependable tiller
I've operated a lot of tillers over the past 50 years, and I am absolutely happy with this Troy-Bilt. It starts easy, is easy to manipulate, and has done everything I've asked of it. We only have one acre, but I've gone over 1/3 of it 3 times already this year - knocking weeds down and preparing the garden here in the south end of the San Francisco Bay. It is a fine product I've been diligent about the maintenance schedule - oil changes are easy, and nothing has rattled loose after around 50 hours of use. Good machine!
Date published: 2015-04-16
Rated

2

out of

5
by
VERN41
from
not the quality
i am a second troy built owner, the first bronco is quality, and one hand operation. the second tiller i purchased a few days ago, is nothing, the metal is smaller and lighter, it donyt pull on its own.it does till the soil fine. the ball the soil and weeds in front of the tines and just spinns the wheels, not tracking forward. therefore no one hand operation , you have to push it forward The motor runs great, the quality isnt anything like they where 20 yrs ago. i may just replace the engine on my old one and keep it another 20 yrs. I DONT LIKE THE ANTY ROTATION TINES.
Date published: 2009-02-22
Rated

2

out of

5
by
ciderman
from
I have owned a Troy-Bilt horse tiller for over 20 years and it is light years ahead of this tiller. I thought I would get the Super Bronco for smaller tasks. What a mistake! This engine is the hardest starting engine I have ever had on any outdoors equipment including any weed wacker. The first time it started fine but since then it takes a minimum of 15 minutes of pulling and then it does not always start. I'm taking this thing back!!! Who makes this engine?
Date published: 2009-05-20
Rated

5

out of

5
by
mthomas
from
Better than my Tuffy
I had a Troybilt Tuffy for several years, during that time I tilled my wife's flower beds and her garden twice a year every year. This year I spent the money and bought this tiller. Main reason was the reverse. After I got the box home of course I had to assemble the tiller, this was easy following the instruction manual included. Filled it up with gas and oil, pulled the starter rope twice and it started right up. After I made my first shallow pass and tried the reverse it didn't work. Failure to follow instructions caused this problem got a rule and measured the distance the cable traveled and it worked like a charm. I was able to till the 100' by 4' flower beds in half the time amazing. Went to the garden and had it done in short order. This is an amazing tiller for the price. I like the ease of use, and when it started with the second pull I wish I had video taped it for proof. This tiller is far better than advertised. Unless you have an area to till that is extremly large this is the best buy for the work. Love it.
Date published: 2008-06-18
Rated

3

out of

5
by
69yearolduser
from
Disapointed
I had a Troy Built anniversary Horse tiller. I couldn't lift and turn it at the end of a row anymore. I traded it for a Super Bronco and knowing there is a very large difference between them I' am still disapointed in the new one. wouldn't turn my sandy soil untill the dealer got me weights for it--now it wil only work at the shallowest setting. My dealer has been very helpful through this trying time--but I'am still stuck with a tiller i'm not satisfied with.
Date published: 2011-07-15
Rated

4

out of

5
by
p2w2
from
the tale of two tillers
My old tiller was a front end tiller and the front end tiller by Troy-Bilt did not appeal to me as much as the rear end tillers did. It took a couple of days for me to get use to the "change". I am quickly learning to guide and operate this machine, it is totally different. The depth and quality of tilling is better than my front end tiller and I was able to cover twice as much area in half the time. Easy to start, ready to do the work and soon to be my favorite tiller. (FYI female 60yrs.)
Date published: 2014-10-02
Rated

5

out of

5
by
BEF27NASH
from
SUPER BRONCO CRT TILLER
I needed to make a new vegetable garden and several new flower beds throughout my yard. This new fathers day gift cut through the lawn and in about 45 minutes, I had a 20ft x 20ft garden tilled. Making flower beds was so quick and easy. I would like the handle made sturdier, but overall, this machine is fast, easy, and a true work horse.
Date published: 2008-06-18
Rated

5

out of

5
by
Bonner11
from
Excellent tiller
After owing 5 other troy-bilt tillers an having gardened 40+ years, i finally down sized from the 8 hp horse. This is a great tiller an does an amazing job. I have a very large garden area, an since i am retired, this is the just right size for me to be able to continue gardening. yes i would recomment this to a friend or anyone that asked me.
Date published: 2012-07-25
Rated

5

out of

5
by
Anonymous
from
Super Bronco is SUPER!!!
Replaced my old MTD front-tine tiller with a new Super Bronco after about 15 years of getting beaten up using the front-tine tiller. This Super Bronco with the counter-rotating rear tines makes short work of my 24 x 20 garden and the soil looks better than it has in years! The reverse is fantastic and really makes turning around a breeze. Being almost 69 years old I sure am glad I opted for the rear tine Super Bronco instead of continuing to beat myself up with the front-tine tiller! Assembly was a snap - a few nuts to install and add oil and gas. Then the moment of truth - choke it, set the throttle to Run and pull the starter cord - twice. Fired right up. Now it usually starts on the first pull. Guess it just needed some breaking in! Thanks Troy-Built!!!
Date published: 2013-05-02
Rated

5

out of

5
by
Chief1
from
My Troybilt Equipment
Upon return to Illinois in 1998 I bought a 5hp forward Rotating Tine Bronco Tiller. Normal wear and tear with much rugged use resulted in Tine and Drive Belt replacement (I service my equipment regularly). The past year I gave that Tiller to a Grandson (still performed like new) and bought an easier to use Super Bronco Counter Rotating Tine Tiller. One hand operation and exceptionally fine tilled soil has produced a beautiful vegetable garden (2012 weather permitted my early planting). I have a beautifully landscaped home (and usually have two vegetable gardens each year) and Troybilt has aided my efforts fully. I own two Tillers (large and small), a self propelled Mower, a String Trimmer with Attachments, and a Chipper/Shredder/Vacuum; all Troybilt and all exceptional equipment.
Date published: 2012-04-18
Rated

5

out of

5
by
Loran68
from
best tiller ive had
I have had my tiller since 2002 and have had no trouble with it.I do a one acre garden 2 times a year.could never do this with a front tine tiller.I change oil in it 2 times a year,and spark plugs and that is it.I am 68 years old and most of the time i run it one handed.It is the most easy to operate tiller and the most long lasting one i hav ever had.Well worth the price
Date published: 2013-02-14
Rated

5

out of

5
by
Junior
from
Super Purchase
I bought this tiller in 2005 and have had no problems with it. Break up my garden with it, prepare planting beds for my wife, Reliable and tough. Recently my Son borrowed it to break up his garden. He left it under a Large tree that night. A storm came in and broke a branch of the tree. It fell directly on the handle bars, bending them. Went on-line to the Troy Built site and ordered all the parts necessary to repair. Great service and easily the best rear tine tiller on the market!!!!
Date published: 2012-05-15
Rated

5

out of

5
by
DarwinG
from
Tiller - Works Great
Great working tiller for the price. Purchased 5 years ago. Easy to use, even my spouse at 110lbs can handle it. Digs deep or shawlow depending on your setting, and the reverse tilling creates a nice fine soil when the ground isn't too wet or dry. Starts on 1st pull with new fuel. I installed a fuel turn off value to be able to run the carb dry before over winter storage with gas and Sta-bel fuel treatment in the tank. Usualy starts on second pull using older fuel.
Date published: 2012-07-24
Rated

4

out of

5
by
Stagger
from
Nice tiller
Easy to start, has a handy reverse. Quieter then any others I have used. Low RPM engine is strong. The only downside I have for this item is the handle seems to flex, a little flimsy.
Date published: 2015-08-13
Rated

1

out of

5
by
FarmerAb1
from
fire the cook
I owned a troybilt tiller for many years finally wore out love it thought I should buy another. Now I wish that I didn't. While the tiller is still a good one the reverse tines (crt) tiller does not work correctly the tines rotate forward and throw the dirt and weeds all clog up under the machine have stop too many times to clean out weeds . Not worth the trouble would not buy a crt type . Wish they had a kit to change back to forward rotating
Date published: 2014-10-19
Rated

1

out of

5
by
TGIJ
from
Very Disappointed
I have used the tiller three times in 10 months. The first time 2 of the tines broke. The second time, the handle supports bent. The third time, after repairing (and reinforcing them), the handle itself bent.
Date published: 2008-05-25
Rated

4

out of

5
by
Anonymous
from
VERY GOOD FOR PRICE
I AM A SECOND TIME USER, MY FIRST TROY-BUILT WAS ALSO A A GREAT ONLY PROBLEM WITH IT IT ONLY LAST W5 YEARS. I FINALLY DECIDED IT WAS TIME TO RETIRE THE OLD ONE (EVEN THROUGHT IT STILL WORKS) THE TILLER I HAVE IS JUST A GOOD. I HAVE A PRETTY GOOD SIZE GARDEN AND IT HANDLIES GREAT. ONLY HAVE TWO PROBLEMS. (1) NO WAY TO REGULATE GAS AT HANDLE AND YOU HAVE TO LOCK IN WHEELS. MY OLD TILLER ALOWED ME TO AJUST GAS ON THE HANDLE AND STAYED FREE WHEEL UNLESS YOU PUSHED IN ON THE FORWARD GEAR TO RUN. WITH THIS NEW ONE IF YOU WANT TO FREE WHEEL YOU HAVE TO MANUALLY UNLOCK THE WHEELS EACH TIME OR MANUALLY LOCK IN THE WHEELS. I CAN SEE THIS MACHINE IS JUST A GREAT AS MY OLDER MACHINE WITH THE TWO THINGS I DON'T LIKE. I WOULD RECOMMEND THIS TILLER TO MY FRIEND ( AND I HAVE).
Date published: 2009-04-13
Rated

5

out of

5
by
Swede
from
Love it!
Every season I cannot wait to fire up the Super Bronco and go play in the dirt! I have tilled the garden several times already even though planting around here is still about two weeks away. I would not garden if I did not own a Troy-Bilt Super Bronco. What a satisfying thing to quickly & painlessly prepare the garden for planting. It is a great product that saves hours of back-breaking work.
Date published: 2012-05-17
Rated

5

out of

5
by
Elgordo
from
Trench digger
I brought this machine to dig trenches. I install drain lines on various jobs, and I use this machine in situations where I can not bring in a back hoe to dig the trench. This machine is good for breaking up the soil, and cutting through the small and medium sized roots. The only complaint I have about this machine is that it will not throw the dirt out of the trench. However, we can not have everything. The only other complaint I have to remove the tines after a job to clean off the roots and vines that collect on the tines. Also, it is good to do this as soon as possible as plant sap causes some rusting of the exposed shaft. I also grease the shaft after cleaning off the vines and re install the tines. The machine, on the whole, works well, and I highly recommend the machine to anyone who needs a good, working tool.
Date published: 2013-10-22
Rated

1

out of

5
by
exasperated
from
Super Bronco
I bought one on a Monday and had to return it because the 208cc briggs and Stratton engine kept dumping gas in the crankcase. I returned it and picked up the replacement and used it for maybe 30 minutes and it did the same thing. I bought this because I have a 4hp Troy-bilt junior that I have had for 22 years but it has a Tecumseh engine that all parts are not available for now. I am going to return it and look elsewhere for a tiller that is dependable.
Date published: 2014-05-16
Rated

2

out of

5
by
cyrus
from
super bronko
Whoever came up with the counter rotating tines has obviously never had to actually use them. Constant hard work is needed to get any results. Gone are the one handed tillings with this unit. I realise it's less than half the price of a Horse, but I would bet forward rotating tines would be an improvement for this machine.
Date published: 2009-11-03
Rated

5

out of

5
by
georgeandmollie
from
Great tiller for breaking new ground
Got the tiller home and followed the easy instructions for assembly, basically not much to do. Added oil and gas and to my surprise the tiller started on the first pull, this is a good sign. Got out to the garden area that has never been tilled prior. Started with a shallow till and made several passes tilling deeper each time. The Super Bronco didn't stall or hesitate on any pass and had power to spare, no evidence of being overloaded or powering out at any time. All the drive characteristics of the tiller are solid and the handling was much easier than I expected on new ground. Overall a great high quality tiller, would definitely recommend. 5 Stars
Date published: 2020-04-10
bvseo_sdk, dw_cartridge, 18.2.0, p_sdk_3.2.0
CLOUD, getReviews, 19ms
reviews, product