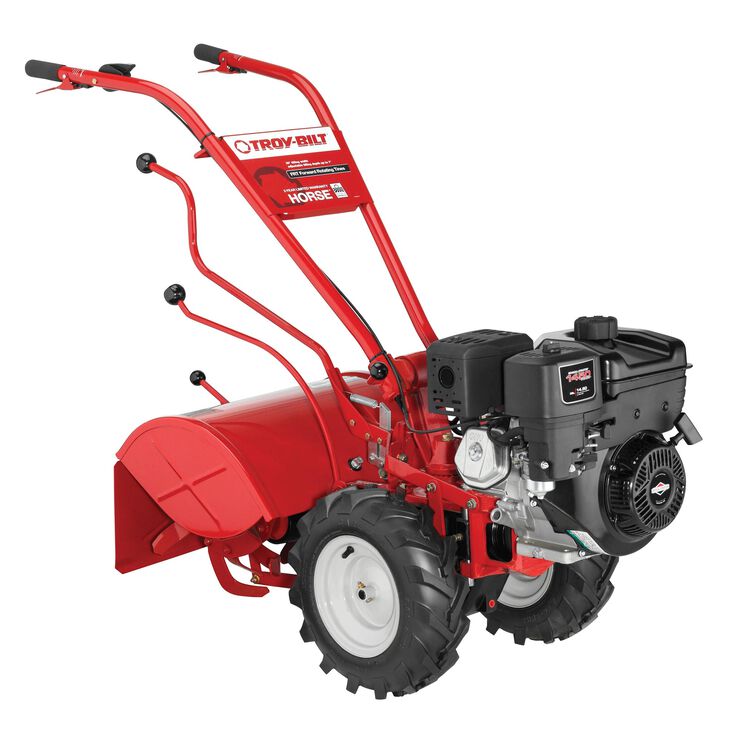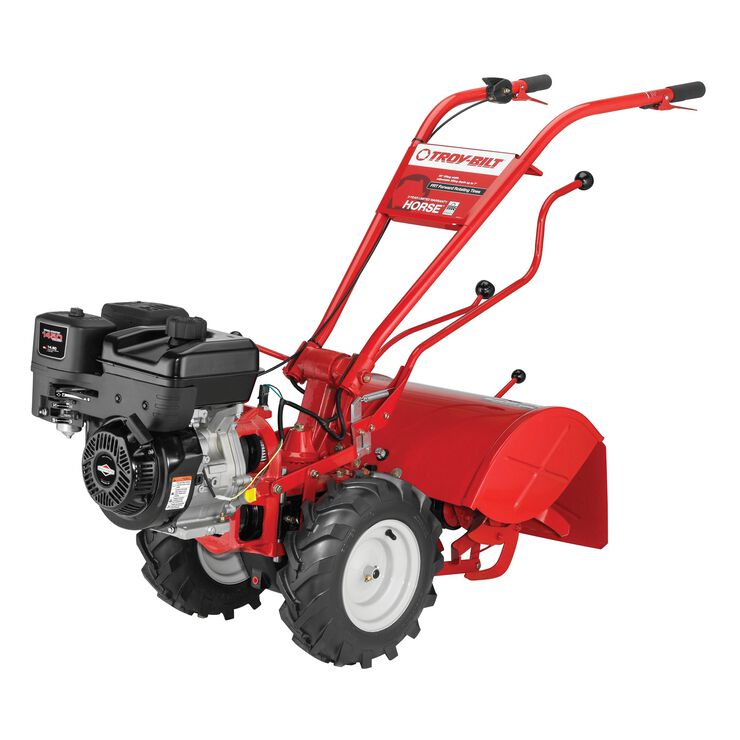 ---
Forward rotating tiller with a 306cc Briggs & Stratton® engine and 20" tilling width.
To bring those ideas in your head to life, you need a tiller that works like this Horse. The Horse garden tiller can do all your heavy duty garden chores, including groundbreaking in new beds or premium soil preparation in existing ones.
306cc* Briggs & Stratton OHV 1450 Series engine
12" tine diameter
Adjustable tilling depth up to 7"
4 forward, 1 neutral and 2 reverse speeds
Full-sided tine shields for operator protection
Accepts a wide variety of optional attachments
cast-iron encased transmission with bronze gear drive that provides extra strength and durability
Troy-Bilt horse 20-in rear-tine tiller features an extra-wide tilling path to till large areas faster, and aids in seeding preparation and mixing compost in the pile or into your soil
Horse FRT Garden Tiller Features
Heavy Duty Transmission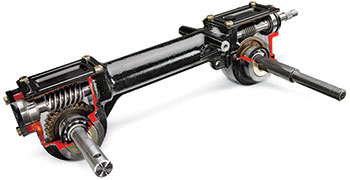 A cast iron gear casing and precision cut bronze gears in the heavy-duty transmission provide extra strenth and durability, plus they're covered with a limited lifetime warranty
Just One Hand Operation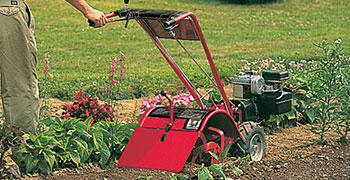 Guide the tiller with just one hand thanks to a well-balanced and easy to control design
Bolo Tine Design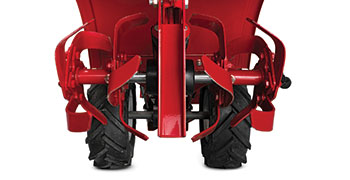 Unique, bolo-designed tines alternatly slice, chop and turn soil with ease, while thoroughy and deeply mixing soil to create finely textured, well-aerated seedbeds
Rear Tine Tillers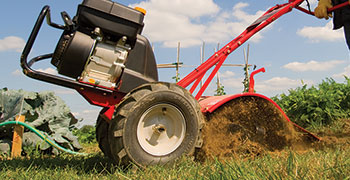 These tillers are best for breaking new ground and powering through hard-packed, challenging soil. Best for med-large size garden beds.
Forward Rotating Tines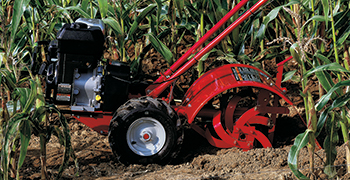 These tines rotate in the same direction as the wheels and are best in established beds for premium soil preparation.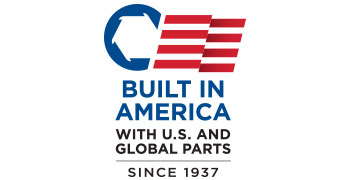 Power Reverse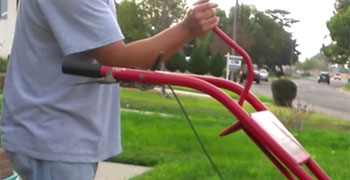 Get out of tight spots and around rocks and other obstacles with the flexible handling of power reverse
Engine
Engine Brand

Briggs & Stratton®

Engine Model

OHV 1450 Series

Engine Displacement

306cc

Starter Type

Standard Recoil

Engine Oil Capacity

26 oz
Drive System
Transmission

Cast iron transmission with bronze gear-drive
Warranty
Warranty

2-Year limited manufacturer's warranty - refer to online operator's manual for exclusions. Limited lifetime warranty on transmission. 2-year warranty on engine.
Controls
Handle

Adjustable Plow Style
Dimensions
Dimensions L/W/H

62.5"(L) x 27"(W) x 37.5"(H)

Weight (approx.)

361 lbs
Additional Specifications
Recommended Oil Type

SAE30 (included)

Model Number

21A-682T766
Specifications
Forward/Reverse Speeds

4 forward / 1 neutral / 2 reverse

Tilling Depth

Adjustable up to 7"

Tilling Width

20"

Tine Rotation Direction

Forward-rotating

Tines

12" diameter Bolo

Wheels

16" x 4" pneumatic Ag tread
Tiller Tine Specifications
Tine Rotation Direction

Forward-rotating
| Model | Manual | Form Number | |
| --- | --- | --- | --- |
| 21A682T766 | MANL:OPER:ENGL:TB LF | | |
| | MANL:OPER:ENGL:TB LF | 769-10316 | Download |
| | MANL:OPER:ENGL:TB LF | 769-11217 | Download |
| | MANL:OPER:ENGL:TB LF | 769-11217A | Download |
| | MANL:OPER:ENGL:TB LF | 769-11946 | Download |
| | MANL:OPER:ENGL:TB LF | 769-12551 | Download |
| | MANL:OPER:ENGL:TB LF | 769-12551A | Download |
| | MANL:PARTS:2015:TB 21X-6XX | 769-10185 | Download |
Product Reviews
Rated

5

out of

5
by
GardenMan
from
8 HP PTO Horse Model - 26 years and still strong
My Troy Bilt 8 horse power PTO HORSE MODEL was delivered in 1986 and has tilled my garden in the five homes I have owned since. I have replaced the tines 4 times only because I wore them out. The battery has been replaced 8 times. The 8 HP Kohler single cylinder engine has run flawlessly and only required one spark plug change and one carburetor rebuild. I have changed the crankcase oil twice and the engine oil gets changed every season. The air filter gets changed as needed. I keep a couple on hand at all times. This garden season has been the roughest one yet because we moved last year and the garden area is very hard and full of smooth round rocks. I think it was a river bed during the last ice age. If all products were made with the same high quality and standards as my Troy Bilt Roto Tiller-Power Composter the world would be a better place for all of us.
Date published: 2012-09-18
Rated

5

out of

5
by
Lagarto
from
No Competition
Hands down this is the only Tiller for serious or hobby Gardeners. I have two of these Horse models, one from the seventies and one from 2012. Both machines still operate and function as advertised. I have a tractor with a six foot tiller attachment and I still depend on my Troybilts every season for gardening and various projects. Don't settle for less or you will be disappointed. There is not another Tiller on the market that comes close. This is as good as it gets. I Know.
Date published: 2012-09-18
Rated

5

out of

5
by
BearyI
from
A real work HORSE!!!!
I have been a Horse owner since 1991 and have been very much satisfied with my tiller. I have a rather large garden and have used my tiller every year to work my garden. I am very satisfied with my tiller and would buy another right now if I needed one!
Date published: 2016-05-31
Rated

5

out of

5
by
bcrawfordj
from
Built to last
My Father n law first bought the Troy Bilt Horse model about 35 years ago, he passed away about 8 years ago. He had 3 huge gardens that he would grow plus he worked at a Paper Mill 37 years swing shift. I use to tune it up for him about every couple of years for him. I've replace the tines about twice, put in wheel oil seals, just regular maintenance for the parts that wear out. I have had it since his passing and finally I had to purchase a 6 hp motor for it cause the other finally broke a connecting rod. It was cheaper for me to buy a new motor that for me to rebuild the old one. You couldn't give me a truck load of front tine tillers to replace the one that I have now. (Y)
Date published: 2014-03-17
Rated

5

out of

5
by
Siss
from
Outstanding machine
We purchased a used 8 horsepower Troy bilt tiller from a gentleman who had stopped gardening and moved out of state.My goodness that machine has been a jewel. We have a lot of grden space and it has more than paid for itself. The soil looked like sand after tilling and our ground was so pretty, it was almost tempting not to disturb. The rear tines are the best. It sure did remove a lot of weeds to which not much hoeing was needed. We would not have any other tiller except Troy Bilt!!!!
Date published: 2014-09-25
Rated

5

out of

5
by
Banquetman
from
Horse owner since 1984
I have a 1984 Horse that I have used since I bought it new in 1984. It continues to work as well as the day I bought it. Good servicing means that all the safety features are operational and it starts usually on the first pull. Greatest investment I ever made.
Date published: 2016-05-23
Rated

5

out of

5
by
jserr
from
Keeps on going and going and going
We bought a new Horse tiller over 15 years ago and we have used it every year since along with loaning it out to family and friends. Have replaced tines and general tune up but other than that it just keeps on and on doing the job just like it did from day 1. My husband used it up until his health was too bad and I, at age 59, still use it so it is very easy to use even though it is a big size tiller. My granddaughter even started helping with the tilling when she was about 14 years old. If it is Troy-Bilt it is going to last.
Date published: 2012-04-18
Rated

5

out of

5
by
UpNorthBob
from
Old machine still going strong
I bought my Troy Bilt tiller new in 1974. I got it out of the shed this morning and, just like every year, I poured some gas in the tank, and it started on the first pull. Not bad for the original 4-1/2 horse Clinton engine that came with the tiller. The Clinton has worked good over the years, but I really should have gotten the 6 horse way back then, as I think the machine was always a bit underpowered with the 4-1/2. Probably why they quit offering it after a few years. Besides, parts for the Clinton are almost impossible to get anymore. Very happy with my machine.
Date published: 2017-05-10
Rated

5

out of

5
by
slplssnight
from
Best Tiller available today!!!
I grew up using a Troy Bilt Pony, which we used on a three acre garden and is still being used today 30 years later. So when it came time to buy my own, Troy Bilt was the only option. I bought the Horse because I wanted a little more width, more power, forward, reverse, and speed options. I was not disappointed - this is the best tiller on the market regardless of time frame. A lot of people say that they don't build things like they used to....that is not the case here. This tiller is well worth the money!!!
Date published: 2014-07-08
Rated

5

out of

5
by
KBP1
from
Garden maker
Since the early 1980's I have used a Troybilt horse tiller. The one I currently use and own was made in 1986. It was made to last. I till up two large gardens 50x100 or more and use the v-sweep cultivator to eliminate weeds. They just don't make better tillers than this one. It does a great job in all types of soil. Since it is not a light tiller, it takes a little practice to learn how to maneuver and use it to your best advantage.
Date published: 2012-07-24
Rated

5

out of

5
by
LarryMac
from
Built to Lst
10 out of 5 stars. How long should a tiller last ? See facebook post. Well, it finally happened. Dad's old Troy built tiller stopped working for me. The engine started and everything seemed fine until I put it too the ground and the tines stopped moving. It no longer wants to dig. I have done all I can through the years to keep it running but it may be the end for the old horse. I forget when he got it, I know he had it when I was in high school, not sure if he had before then or not. That would make it at least 40 years old that I can think of. Engine is still strong, an old Kohler 8 Magnum. It gets started once a year and after 10 pulls today, it fired up. Probably a clutch inside but that is more then what I have knowledge of too fix. Every spring that I use it, I can see and hear him telling me to get the rows straight I am teary eyed now, just thinking of him and I feel like I have kinda disappointed him. Not sure whether it is worth trying to get rebuilt or not. Love you and miss you Dad.
Date published: 2014-10-30
Rated

5

out of

5
by
Terk
from
A good choice
Our Horse TroyBilt tiller works our poor soil with ease. We have gumbo mixed with Badland soil so can be very hard. It works our garden soil up nice and smooth for planting we also use it to till around our trees. We also use it with the V- plow behind it to make rows to plant corn.
Date published: 2012-06-06
Rated

5

out of

5
by
Carl
from
Best tiller on the market!
This tiller is appropriately named because it is a true workhorse. My horse has been plowing the ground for many years now and has always been there when I needed it. Due to all the use it has been through, I did have to replace the engine four years ago and do a little machining on the axle to reset the snap rings but it's still the workhorse that it always has been. You can't go wrong with Troybilt!
Date published: 2012-05-15
Rated

5

out of

5
by
Ricardo
from
This tiller will last forever, my father had one from the 70's and still uses it! We (and our neighbors) have used ours for creating new gardens, re planting lawns, tilling leaves in the fall, a real life saver for gardening!
Date published: 2012-05-16
Rated

5

out of

5
by
dtl535
from
Not sorry for buying this
I've had my Horse since 1984 and have used it every year with no problems. The soil by me is more like clay than dirt and it goes thru it with no problem. I have had to change the belt on it a few times, but that is expected from the use. I do maintenance on it every year after the year is over. And it still starts with 2 pulls. I did have to replace the gas tank on it once. after 30yrs. it finally started to leak. I also put a little edge on the tines every year because of the rocks in the dirt.
Date published: 2012-05-15
Rated

5

out of

5
by
BangDupp
from
Power House
Bought this tiller to compliment my 28 year old Junior tiller. The Junior is still running strong, but decided I needed a Horse to do the heavy work I had subjected the Junior to. The Horse arrived well crated and in perfect condition. I uncrated and assembled it per the instruction booklet, added oil and gas. Had to add more oil than what was in the supplied bottle as it was 26 ounces, and the engine takes appx. 36 ounces. 2 pulls on the starter and it was running. Ran it around the back yard for about 10 minutes then completed the full depth tilling in the garden with 2 passes. Came back with the Junior and cut the furrows. The power and quality is what I would have expected if I had bought this Horse 28 years ago.
Date published: 2018-06-07
Rated

5

out of

5
by
Barney
from
Would not have a garden without it.
I got my first Troy-bilt (horse) over twenty five years ago and gave it to my son-in-law for his garden after I got my new one last week. Another Horse and I would not have a garden without it. In just a few hours I can till my half acre garden. It is a very solid machine that requires little maintenance. New tines every couple of years and good to go. I got my moneys worth out of the old one and it is still running. Putting the tines in the rear was a wonderful idea. I put my grass clippings in a compost pile and till them into the soil and I have the best compost in the neighberhood. It truely makes the garden a joy to work in. It is a powerful machine that has no trouble digging into the soil and all that it left is the seeding. I really love this machine. The only problem is the neighbors want to borrow it. I really believe it can handle my yard and the neighbors also.
Date published: 2009-06-14
Rated

1

out of

5
by
RobG
from
Having many problems
I bought the troy built horse 3 years ago and it has been 3 years of problems. First, had a gear oil leak around the axel on the left side. Second, using GetGo Giant Eagle gas caused the engine not to start. Third, had another gear oil leak at the high / low gear shaft. My problem now is the engine keeps cutting out, I get around 1 to 2 passes on my garder and the engine will start to spudder and then shut off. It takes many pulls to get the tiller running again, and this problem just keeps happening. I am using fresh gas from Sunoco like the company told me to use after I had the problem with the GetGo gas. I was told this machine would be durable and last, my garden is not that big (90 ft.x 50 ft.). My family has always bought Troy Built and had no problems. I am very disappointed with this machine. You pay the most for a tiller and expect it to run. This is not the case.
Date published: 2013-05-30
Rated

5

out of

5
by
joves
from
i have one of these.best thing i ever bought.really like the power and high-low gears,makes operation effortless.i would reccommend this one to anyone.
Date published: 2011-06-24
Rated

5

out of

5
by
Garypl
from
Been Using My Horse Tiller Since 1982!
I bought a 6 HP Horse Tiller back in 1982 and it is still running strong today! Over the years I have replaced the times 2 or 3 times (we have very hard, rocky clay soil here in Georgia) and replaced a belt once. Had the rear seals replaced about 6 years ago. It still starts on 1 or 2 pulls after over 30 years of service! I would never own any other type or brand of tiller and I hope to pass this tiller down to my son when I finally stop gardening.
Date published: 2014-07-07
Rated

5

out of

5
by
BillP
from
A great machine
I have owned my Troy-Bilt Horse since 1987 and it has worked flawlessly ever since. I use it in my own garden as well as doing other friends and family member's gardens. It's built like a tank and I can't say enough good things about it.
Date published: 2016-12-07
Rated

5

out of

5
by
Badandy
from
Excellent Purchase Ever.
In 1978 my parents bought a Troy-built horse tiller, with the snow-blade and furrow attachment. other than a few minor repairs, it's still running. I challenge any other company to say that they have a piece of garden equipment still in use after thirty-six years. It starts on the first pull, even after sitting in the shed for half a year at a time, yes you can send a representative out to verify.
Date published: 2014-09-28
Rated

4

out of

5
by
46hillbilly
from
Life long service.
My Horse model has lived for 20 years of service now. Very glad I got it second hand; new engine is going very strong. Needs a 2 or 3 speed on tines forward.
Date published: 2012-08-20
Rated

5

out of

5
by
Boot
from
Great!!!!
I purchased my Horse in 1996 and used it every year since with great success! The only complaint that I have that this is the last year that I can get by with the orginial tines' and before next spring I will have to replace them. I have used my tiller to plow up numerous yards of neighbors and my daughters' garden spot with one pull it will start. I am leaving this tiller to my son, since, I know that it will probably last longer than I will (age: 64 now).
Date published: 2011-04-26
Rated

5

out of

5
by
Buffalo
from
My old horse still got kick
I have owned my 8HP Troy-Bilt Horse model since 1987. I have used it every year to prepare my almost one acre garden as well as prepared many other gardens. It is easy to maneuver and I have tilled flower beds along the sides of houses as well as tilled small gardens wedged between fences and garages for others with easy. I use only the heavy duty tines on my tiller and have went thru five sets of tines from the extreme hard soil and many hours of use I give it. I have snow plowed my country driveway with it and have used the furrow/hiller plow every year to make raised beds, and drainage trenches as well as trenches to plant potatoes and asparagus. The only regret I have is that I did not get the trailer hitch and sweep cultivator for it when they were available. For now I just till very shallow with the furrow/hiller plow wings down to cultivate my garden during the growing season. At sixty years old I find my horse tiller to be as easy to use as when I first bought it.
Date published: 2012-05-04
Rated

4

out of

5
by
ncr17
from
So far so good
I have a 100' x 150' garden. Have used the tiller 3 times and it has done an excellent job. Some of the mandated safety features take some getting used to. Will the tiller hold up without the safety features breaking down? I had lawn mowers with similar safety features that have only lasted 3 or 4 years before I've had to dismantle them.
Date published: 2016-04-17
Rated

5

out of

5
by
barefooter1
from
The Horse
This machine gets its name for good reason. It is a beast and good and heavy for the job it does!! Just be sure you are prepared to handle this machine it is heavy. After you get use to it, then it's a breeze to use. A real ground pounder!!! My garden is 3000 square ft. and it cuts my tilling time in half!!!
Date published: 2011-05-14
Rated

5

out of

5
by
Halstr
from
Six hp Techumseh Horse
I purchased this tiller new in 1980 and it has been outstanding. My garden varies between two and three thousand sq ft of rich soil. Plus, I've used it to replace major portions of my lawn. Breaking up turf would be a chore for lesser tillers. Since it is quite heavy it does not get tossed around. I generally till to a depth of up to 8 inches. It has always been kept inside and I provide all the servicing that is needed. It still looks and runs like new.
Date published: 2012-08-07
Rated

5

out of

5
by
cglary
from
Mr
I purchased a 8hp Kohler powered Horse tiller around 1984. I created a very large garden on a slope behind my house. It was wonderful to use... dug deep and pulverized the soil. I would recommend buying one over other tilllers because this machine is DURABLE.
Date published: 2012-08-05
Rated

5

out of

5
by
eljae
from
40 years and still going
In 1976 my uncle bought a Troybilt horse as a house warming gift for my parents. All dad ever did was change the oil and sparkplug. In 1991 I bought my first house and Dad gave me the Horse which immediately got put to use in landscaping on my property. By the time I got it the 6 hp Kohler had seen better days and I put an industrial 8 hp B&S on it. This year (2018) I installed new front & rear bearings, new tiller shaft bearings & gear, and new bolo tines (thw 1st new tines since being uncrated in 1976). I'd say we have gotten our money,s worth out of this machine and hope it lasts long enough to pass it on to my daughter when I no longer am able to do my own gardening. It has become a "Family Heirloom".
Date published: 2018-06-07
bvseo_sdk, dw_cartridge, 18.2.0, p_sdk_3.2.0
CLOUD, getReviews, 24ms
reviews, product