6 cottage garden favourites for garden beds and borders
Niki Jabbour
A cottage garden is a carefree garden style where perennials like hollyhocks, daisies, and delphiniums intertwine with long-blooming roses and other flowering shrubs. It's organized chaos and planted so that there is colour from early spring through autumn. I've always been a big fan of informal design and have planted several cottage gardens over the years. Here are six of my favourite plants to include for long lasting colour.
Peonies (zones 3 to 8)
Peonies are a cottage garden essential, flowering from mid to late spring. The blooms are huge, typically fragrant, and make gorgeous bouquets. Common flower colours include rich shades of pink, red, white, and yellow, as well as various two-toned combinations. Peonies are long-lived perennial plants and can persist for a century or more if their growing conditions are met. They should be staked with a peony cage or other support as the heavy flowers can flop onto the ground, especially after a rain. Plant in full sun, in well-drained soil and dig compost into the hole before planting.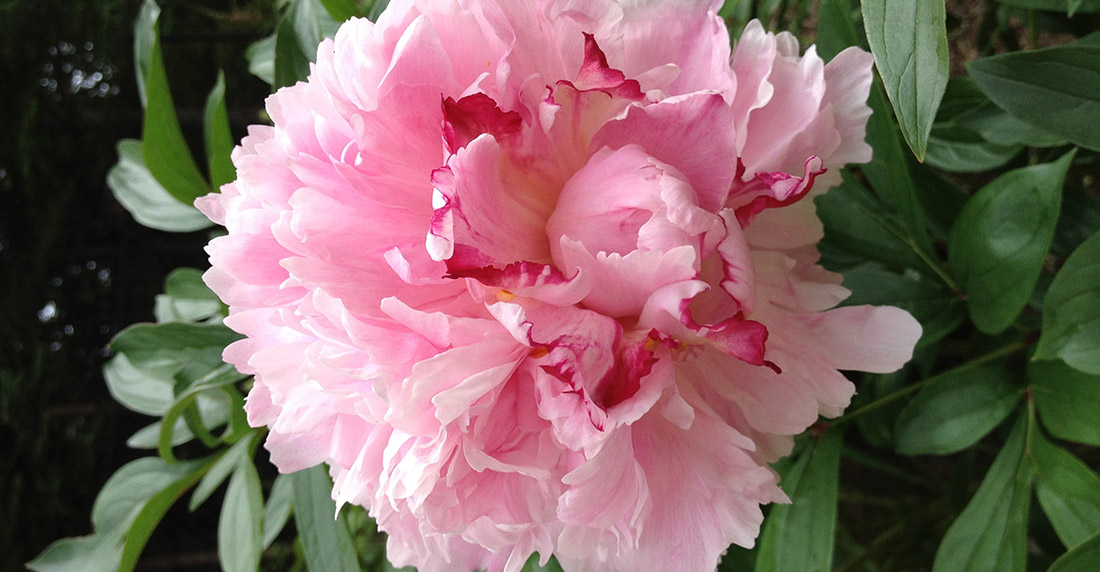 Shasta daisies (zones 4 to 9)
I've always loved the simple beauty of wild daisies the pop up in the garden and Shasta daisies are wild daisies on steroids! The plants are taller and form large clumps that flower from mid to late summer. The flowers themselves are also big, growing up to four inches across and having the same cheerful white petals and yellow centers. Shasta daisies are drought, deer and rabbit resistant, and thrive in gardens that receive at least six hours of direct sun each day.
Rudbeckia (zones 4 to 9)
Commonly called 'brown-eyed Susans', Rudbeckia are native perennials that flower in late summer and autumn. Most types have flowers with distinctive bright gold petals and large chocolate center cones. They're very easy to grow and thrive in full sun and average garden soil. They're pollinator friendly and drought and deer tolerant, flowering for four to six weeks.
Hollyhocks (zones 2 to 9)
Hollyhocks are short-lived perennials or biennials but they self-seed enthusiastically throughout garden beds and tend to pop up year after year. They add height to the back of a flower border and look fantastic when planted along fences, sheds, or other structures. Hollyhocks flower in mid-summer with the show lasting for several weeks. The individual cup-shaped blooms can be single or double flowering and there is quite a range of colours that includes red, pink, white, yellow, purple, and deep burgundy, almost black. Sow seeds for flowers the following year or buy good-sized seedlings for a quicker bloom.
Rugosa Roses (zones 3 to 9)
Fragrant, beautiful and long flowering, rugosa roses are a staple of a cottage garden. They're also among the easiest and most reliable roses to grow with most producing large ornamental and edible hips once the flowers have faded. There are many cultivars of rugosa roses with some growing just four feet tall and others up to eight feet high so read plant tags closely when you're picking which to buy. Most cultivars spread four to six feet wide. They can be used to create a hedge, or be planted in front of a fence or at the back of a flower border.
Delphiniums (zones 3 to 8)
Years ago when I was studying horticulture in university, I planted a cottage garden for my mother. I included hollyhocks, foxglove, Veronica, catmint, Shasta daisies and 'Pacific Giant' delphiniums. I'd only seen photos of delphiniums in magazines and garden books and didn't know if they would grow well in my zone 5 climate. By year two, the plants had sized up and huge showy flower spikes in pale lavender, dark purple, and white appeared. I was dazzled! Delphiniums are mid-summer bloomers with a reputation for being fussy. They like a site with full sun, and well-draining but rich soil. Certain varieties produce flowers that grow up to six feet tall while others are more compact and grow just two to three feet tall. They re-bloomed reliably for a few years in my mother's garden and then eventually declined and disappeared. Now that I've installed a new perennial border in my backyard, I intend to plant delphiniums once again.