Niki Jabbour
I'm all about gardening smarter, not harder which is why I put so much value in the equipment I use for my lawn and garden. High-quality garden tools produce high-quality results. And, the equipment is typically more comfortable and easier to use. Here are four of my favourite pieces of Troy-Bilt equipment which keep my garden, lawn and landscape healthy, tidy, and beautiful.
Rototillers:
A rototiller, like my Super Bronco Rear Tine Tiller uses tines to break up soil clumps, cut through compacted soil, and prepare a garden for planting. Rototilling is typically done in early to mid-spring. The soil should be moist for rototiling, but not too wet or too dry. If the earth is still quite wet from spring rains, wait a few days until it has dried out a bit. If it's dry, water well and rototill in two to three days. A rototiller is also handy for incorporating organic matter like compost or aged manure into a garden to increase nutrient levels and moisture retention. I also use my rototiller to dig up lawn when I want to make new ornamental beds. It's so much easier to remove the turf with a rototiller than try and dig it out by hand.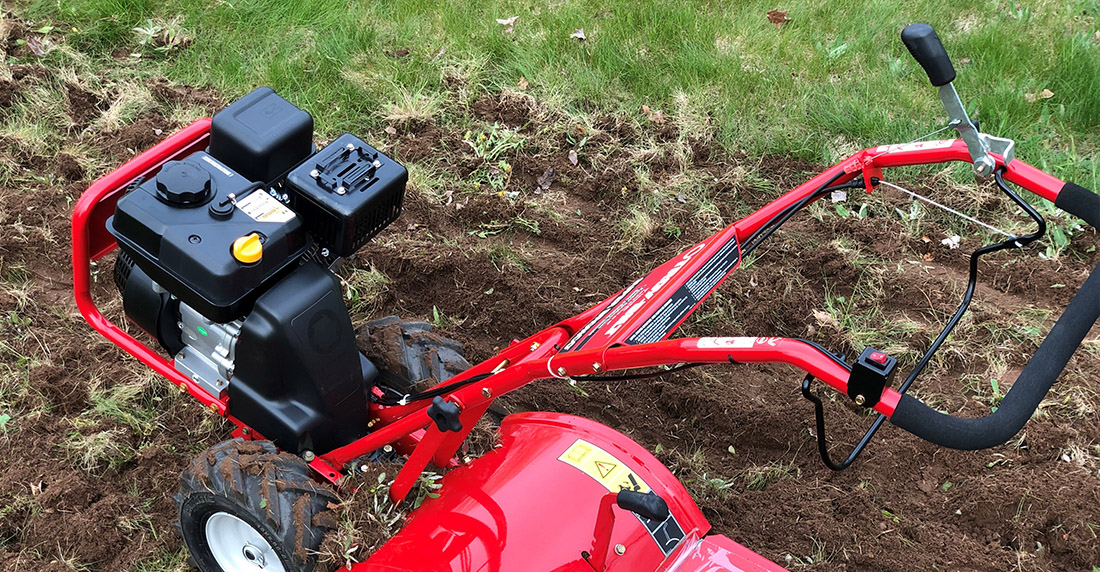 Chipper Shredders:
A chipper shredder makes quick work of a brush pile, fallen branches, or prunings from trees and shrubs. It's an easy way to recycle garden debris into wood chips or mulch for pathways or garden beds. Plus, the 3" Troy-Bilt Upright Chipper Shredded tackles tree or branch diameter up to three inches across. You can also use a chipper shredded to shred autumn leaves. Shredded leaves are garden gold and can be piled up to compost down into leaf mold. I also like to dig shredded leaves into my vegetable garden in autumn to enrich the soil. For best results, use dry leaves and materials when putting them through a chipper shredder.
Trimmers:
A string trimmer is a handy piece of equipment used to cut weeds or tall grass. I have a 2-Cycle Curved Shaft Gas Trimmer which is lightweight and easy to use . Plus, it's TrimmerPlus® capable which means I can switch out the string trimmer attachment for others like a brush cutter, cultivator, hedge trimmer, or my favourite, the pole saw. I spent hours last spring trimming high branches on the trees that line my driveway. Many were partially broken from the previous winter or were low enough that they brushed against delivery trucks. I also use both the string trimmer and pole saw attachment to keep the area that surrounds my electric garden fence clear of weeds, grass, and potentially damaging branches.
Lawn Mowers:
There are many types of lawn mowers to choose from. In the past I've used push mowers, self-propelled mowers, and am now excited to use my new Neighbourhood Rider, a ride-on mower with a 30" cutting deck and 18" turning radius. It's compact enough to fit in my shed, but large enough to mow the lawn quickly and efficiently. The Neighbourhood Rider also offers excellent maneuverability which is great when I'm mowing my backyard where there are several garden beds.