As winter turns to spring, the garden comes back to life with early spring flowering perennials like creeping phlox, bleeding heart and primulas. All of the below plants are easy to grow, when given their preferred growing conditions, and will return year after year to add welcome colour to the landscape.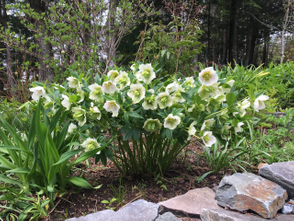 Hellebore (zones 4 to 9)
Also called Lenten rose, hellebores are hardy perennials that bloom from late winter through mid-spring. The flowers are exceptionally long-lasting, often persisting for months in the garden, even through a blanket of snow. Although easy to grow, hellebores prefer a site with partial shade and compost enriched soil. The colour range is wide, with many hues like deep burgundy, creamy white, and lime green very common.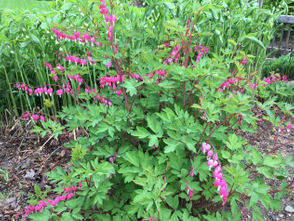 Bleeding heart (zones 3 to 9)
Bleeding hearts are old-fashioned perennials with pink, white, or red heart-shaped flowers. Depending on the species, they grow grow one to three feet tall and have pretty ferny foliage. Like hellebores, bleeding heart grows best in partial to light shade, such as beneath deciduous trees. Bleeding heart is also resistant to deer.
Pulmonaria (zones 4 to 8)
Commonly called lungwort, pulmonaria is a hardy perennial that has purple-pink flowers and eye-catching spotted leaves. Once the flowers fade, the unique foliage provides months of garden interest. Pulmonaria is very low maintenance, thriving in most garden sites, but ideally prefers part shade and rich soil.
Creeping phlox (zone 3 to 9)
Creeping phlox is a rock garden favourite and forms a low mat of foliage that is topped each spring by pink, white, or lavender five-petalled flowers. This is the plant to tuck in the crevices between the rocks of flagstone pathways, or on top of rock walls. Creeping phlox prefers well drained soil and plenty of sunshine. It's also very easy to divide to make new plants. Just dig up a clump after it has finished flowering and divide the rootball into pieces.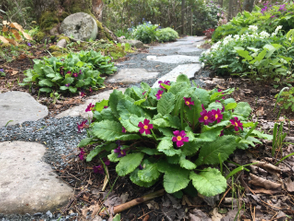 Primrose (zones 4 to 8)
A true herald of spring, primroses add a rainbow of red, pink, yellow, purple and white to the early landscape. There are many species of primroses to grow and my favourites include common primrose, cowslip, candelabra, and drumstick primulas. There are primroses for sunny gardens or shaded gardens, but most do best in partial shade. Primrose plants can be found at garden centres but you can also grow them from seed started indoors in late winter.
Soloman's seal (zones 3 to 9)
I first grew Soloman's seal because I was told it was deer resistant. Happily this turned out to be true and now, I always make sure my gardens have several clumps of this elegant and easy to grow perennial. Each spring, the arching foliage emerges and is soon followed by the white, bell-shaped flowers that dangle beneath each stem. Soloman's seal grows about two-feet tall but, after a few years, will form a clump that is three feet wide. It prefers light shade and makes a great planting partner to perennial geraniums, primroses and bleeding hearts.
Perennial alyssum (zones 3 to 7)
As bright as the sun, the cheerful yellow flowers of perennial alyssum light up the spring garden. The most common cultivar is 'Basket of Gold' with the plants easily re-seeding around the garden. This is a spring perennial that loves sunshine and well-drained soil. Give it what it likes and it will be happy in your garden for decades. It's often tucked into rock gardens or the cracks of rock walls where it quickly fills up empty spaces.